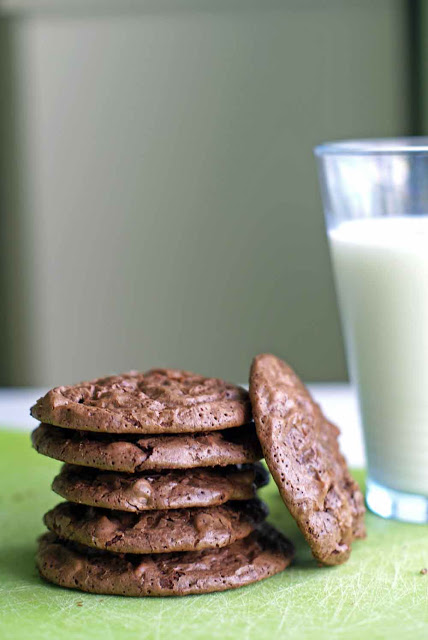 Chocolate, chocolate, chocolate, chocolate
Yum! Yum! Yum! YUM!
Yes, four chocolates = four yums.
I made these cookies on a whim, and they are delicious. The original recipe in Bon Apetit magazine makes huge cookies that are stored in the freezer because they're intended to be used in ice cream sandwiches. Ours never made it that far as we ate several of them the same night we baked them.
Did I mention that they're delicious? And super chocolatey?

Oh, also, remember that time when I doubted Grayson was related to me since he said the Chocolate Cranberry Cheerios Treat were "too chocolatey?" He's redeemed himself – he loves these cookies. And, they're waaaayyy more chocolatey than those treats.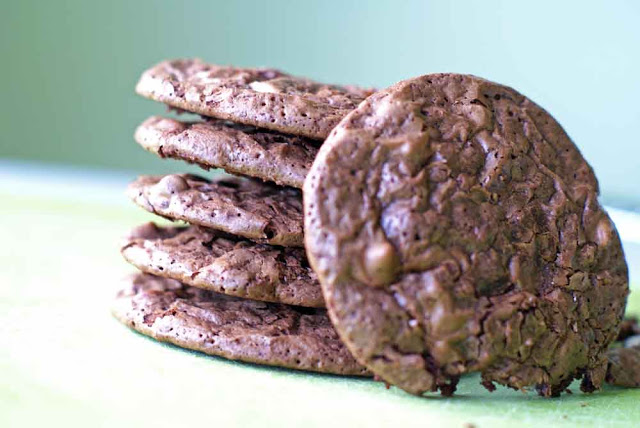 One thing, I highly recommend using parchment paper to bake these. I made some without, and they stuck to my fabulous non-stick baking, breaking apart when I scraped them off. When you use the parchment paper it's easier to lift them off the baking sheets and then peel off the paper if necessary.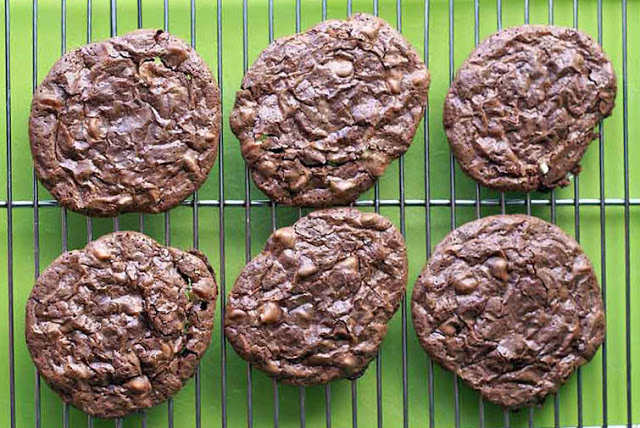 Don't worry though, any crumbled cookies go great on top of ice cream. I tested it just to make sure.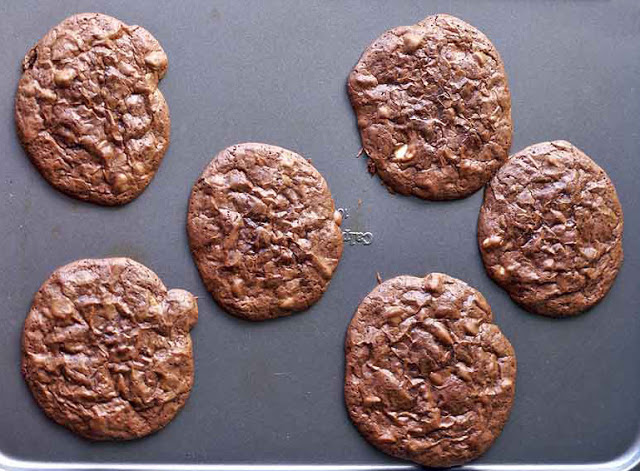 These gorgeous cookies crumbled when I tried to scrape them off the sheet after they were completely cooled. While still delicious on ice cream, they weren't very pretty. Make sure you use parchment paper to avoid this.
Quadruple-Chocolate Cookies
original recipe by Chef Tom Douglas
10 oz bittersweet or semisweet chocolate, chopped
1/2 cup plus 2 teaspoons all purpose flour
3 tbl unsweetened cocoa
1/4 teaspoon baking powder
1/4 teaspoon salt
1 cup plus 1 tablespoon sugar
5 tablespoons unsalted butter, softened
3 large eggs
1-1/2 teaspoons vanilla
1/2 cup semisweet morsels
1/2 cup white chocolate chips
Preheat oven to 350°F. Line baking sheets with parchment paper.
Melt chopped chocolate over a double boiler set over simmering water until melted. (Make sure the insert is OVER the water, not IN it. You don't want it resting in the water as the chocolate might burn. You also don't want any water splashing into the chocolate as it'll ruin it.) Once it's melted, remove the insert from over the water and let it cool.
One thing you should know – I used semisweet morsels, and they never really melted to a liquid. They did soften into a large blob, but it wasn't liquid like I imagined was specified by melted chocolate. I would call it "softened" rather than melted. Regardless, after a while I gave up and added it to the batter and it did beat in. The results, as I said, were delicious. So, if your chocolate doesn't melt, try adding it anyway.
Sift the flour, cocoa, baking powder and salt into a medium bowl.
Beat the butter and sugar until light and fluffy. Beat in eggs one at a time, mixing thoroughly between each egg. (15 seconds is long enough to mix each egg in). Then lightly beat in the vanilla and melted chocolate until it's blended in. Then fold in the dry ingredients, then the white and dark chocolate chips.
Drop the batter by tablespoons onto the parchment-lined cookie sheets, spacing about 2 inches apart. Bake until they are slightly cracked on top (like brownies) but still soft – about 11 minutes for tablespoons of batter, longer if you make the cookies larger. If possible, allow the cookies to cool completely on the baking sheets. If you don't have enough baking sheets, you can slide the parchment paper off of the sheet onto a cooling rack, then prepare another batch.
Makes about 24 cookies