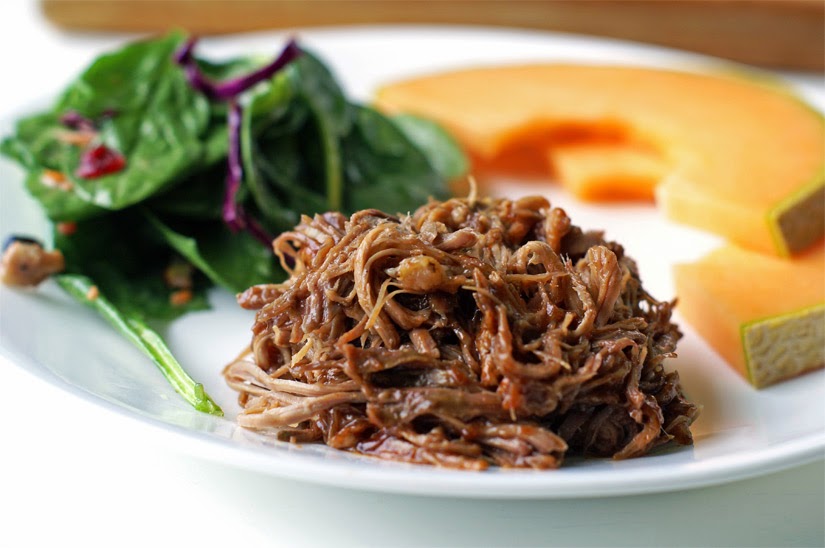 Being five, my son Gabriel loves to talk about butts. Actually both of my boys find body parts hilarious, but since Grayson is only two I think he gets more pleasure from mimicking his older brother than actually thinking it's funny on his own. Anyway, when Gabriel found out there was a cut of meat called a pork butt he was intrigued. He's been bugging me to get a pork butt at the grocery store for a while. I couldn't find any pork butts this week, (doesn't that sound weird to say?!), but I did pick up a nice three-pound pork picnic for dinner. It's a very similar cut, and like the pork butt, is great in the crockpot. Another nice feature is that it's really cheap. I bought this for $2.09 a pound – that's the regular price not a sale price. It's not often that you can buy a cut of meat that comes out tender, flavorful, and juicy for such a low price.


So Monday morning I put the picnic in the crockpot with some garlic powder, cumin (my favorite spice), rosemary, thyme, and dry white wine. You can use chicken broth or stock or even water if you don't have any wine, but I like the flavor the wine gives to it. I then set the crockpot on low and went to school. By the time we got home nine hours later we were starving. From that point until we were sitting at the table took about 20 min, 10 of which were spent prepping the rest of the meal. It really was that fast. It had to be or I would have eaten my arm – or a pile of cookies.
Just to warn you before you open the slow cooker, the cooked roast is not a pretty sight. But when you put a fork in it and pull it apart and see the beautiful pink meat inside and taste the tender juiciness, you'll understand why I love making this for dinner.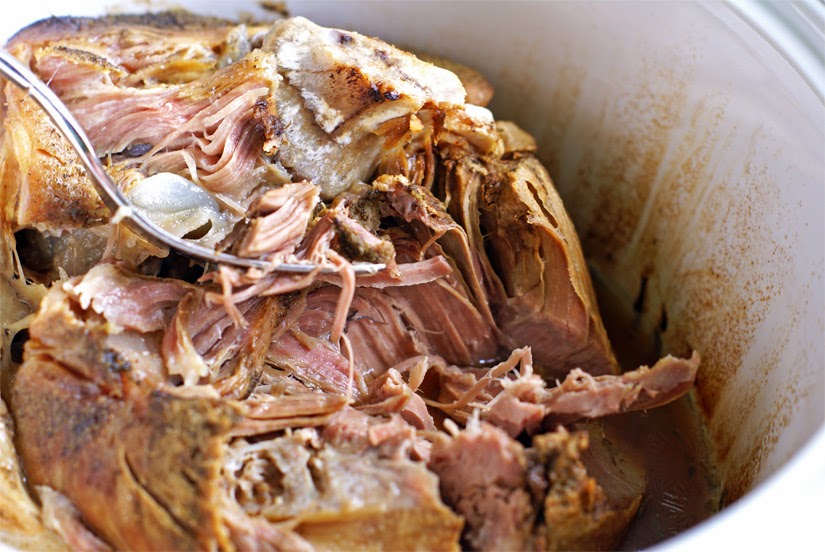 For a bone-in roast, there's really not a lot of waste either. There's a small bone and some skin and fat on one side that you're not going to eat. But really there's quite a bit of good meat that you'll want to eat. Once it's done cooking, take it out of the slow cooker and separate it with two forks. It's very easy; you just pull it apart to get the nice strings of meat.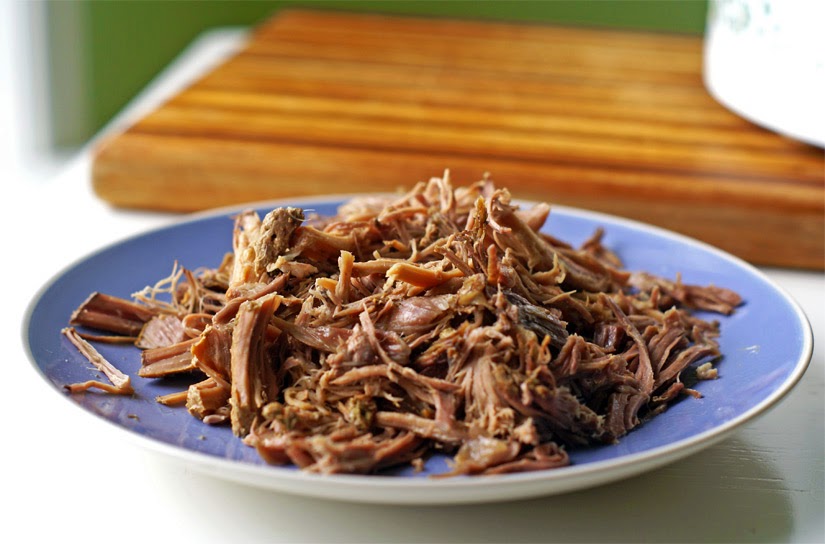 A three-pound roast was enough for us to have two meals with some leftovers for lunch. On Monday we had some with barbecue sauce and a couple of really quick sides. I made a quick salad from those prepackaged bags in the produce department, heated frozen broccoli with zesty cheese sauce, and cut up a cantaloupe. I admit it wasn't entirely homemade, but it was super quick, fresh and good enough that we all cleaned our plates.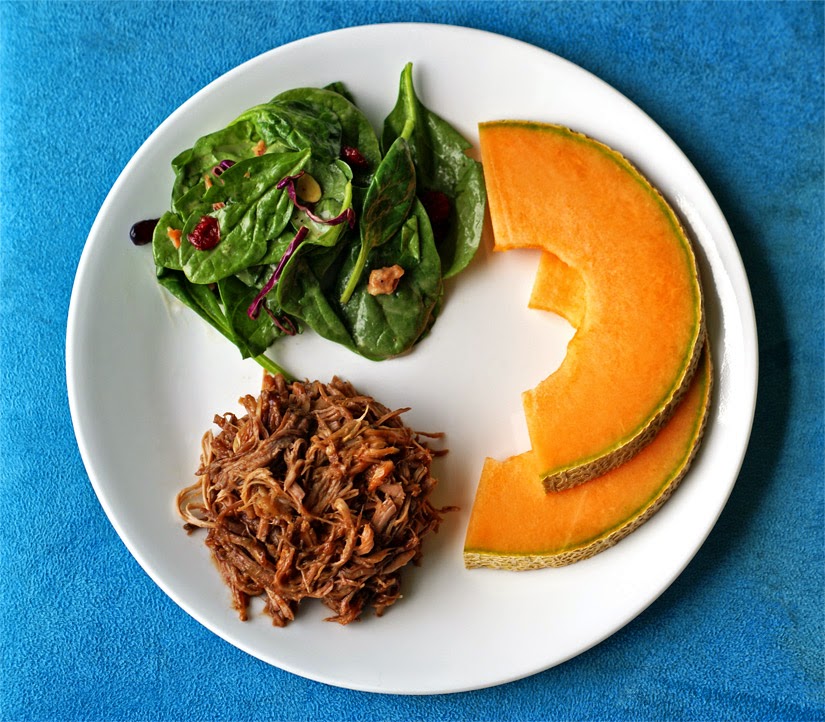 If you noticed we didn't have any starch, it's not that we have anything against starch in our house, it's that we literally could not wait the 20 minutes to make some rolls, rice, etc. We were that hungry and it was that late.
The nice thing is there were plenty of leftovers. I put away the second half of the meat without any barbecue sauce on it, for more flexibility. We used that Tuesday night as a taco filling. I just heated it in a skillet with some chicken broth to moisten it, taco seasoning, little bit of extra chili powder and cumin (did I mention it's my favorite spice?), and salsa. We put those in some warm corn tortillas with cheese, tomatoes, onions, taco sauce and sour cream. That was great, and another quick meal after a long day at school. I should have taken pictures, but again, I was too hungry.
You also could use it as a filling for enchiladas, serve it on a baked potato, put it in soft rolls for sandwiches, pile it up with sauteed peppers and onions, just about anything you want.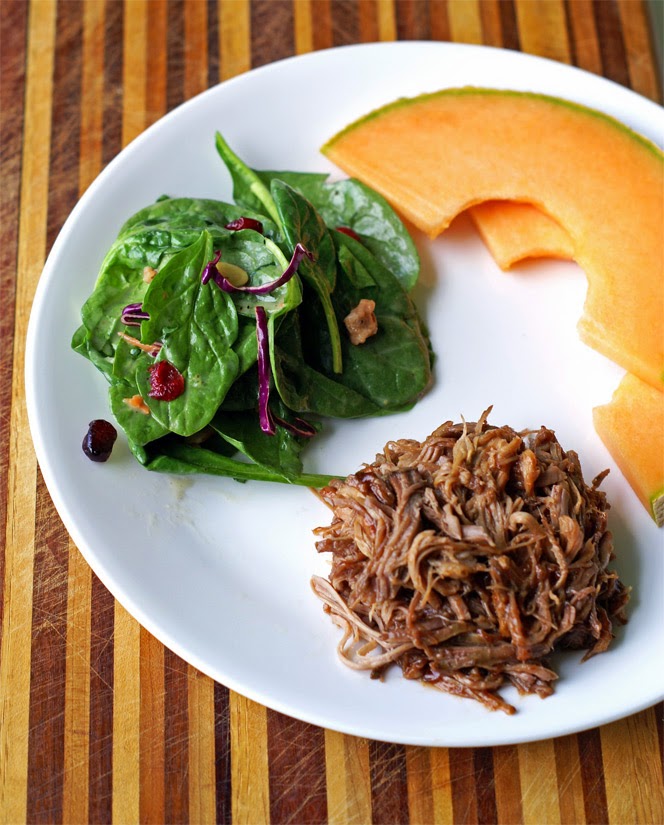 Pulled pork
3-pound pork picnic or pork butt roast
1/2 teaspoon garlic powder or to taste
1/2 teaspoon cumin or to taste
1/2 teaspoon ground rosemary or to taste
1/2 teaspoon ground thyme or to taste
3/4 cup dry white wine, chicken broth, or water
Place roast in slow cooker skin side down. Sprinkle the roast with the seasonings and pour the liquid into the pot, using care not to wash off the seasoning. Cover and cook on low for eight hours or until tender.