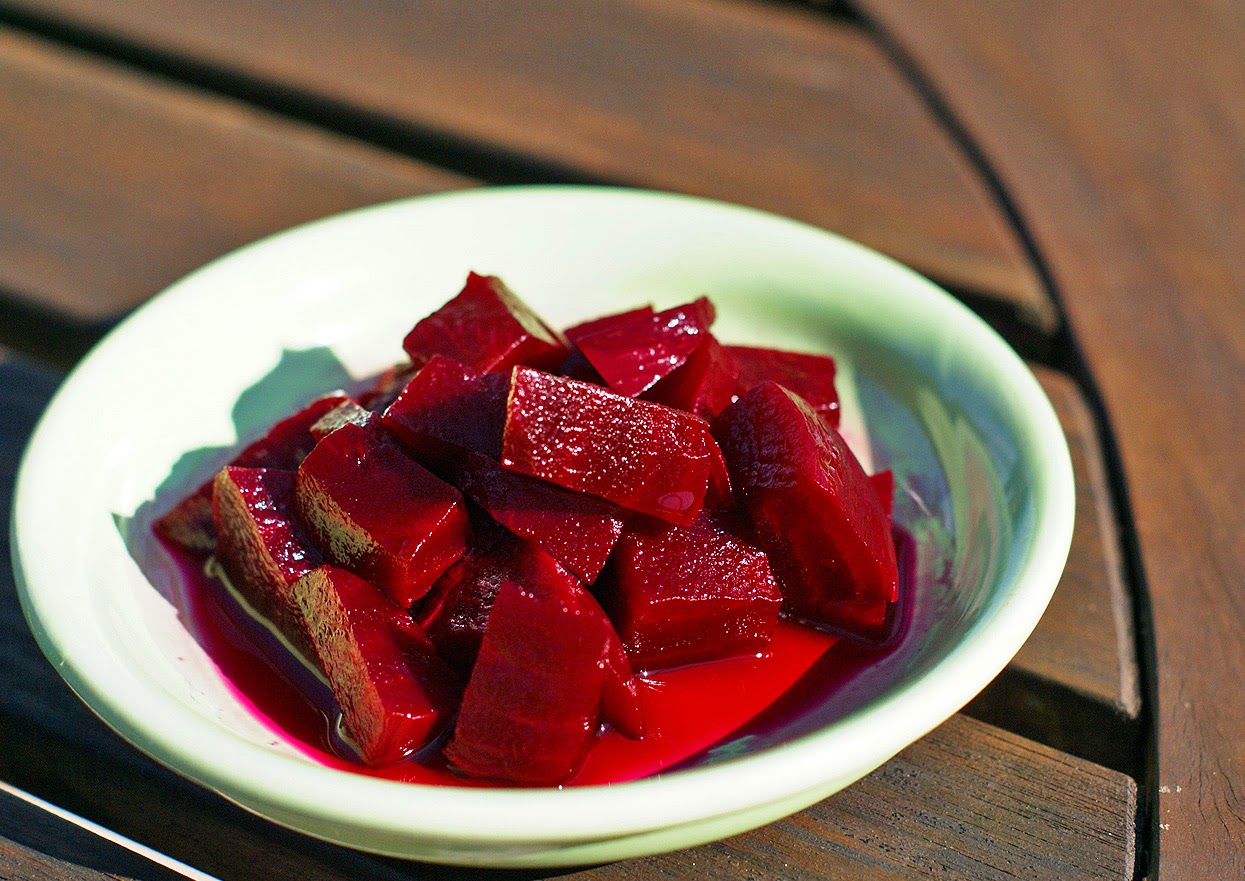 My husband can't stand beets. Roasted, grilled, pickled, he hates them. "They taste like dirt," he says every time I make them, or even mention them for that matter. Every.Single.Time.
I, on the other hand, really like pickled beets, and my boys love, love, love them. As in, they're better than candy for dinner, love them. Well, I haven't ever served candy for dinner, so that's not really true, but they do like them an awful lot. So much so that I go through spurts of serving them with dinner every night. One time I sent them into school with Gabriel, but the teachers aren't super diligent about making sure beet juice doesn't get on his clothes, (can you say "purple mess" three times fast?), so we only did that once.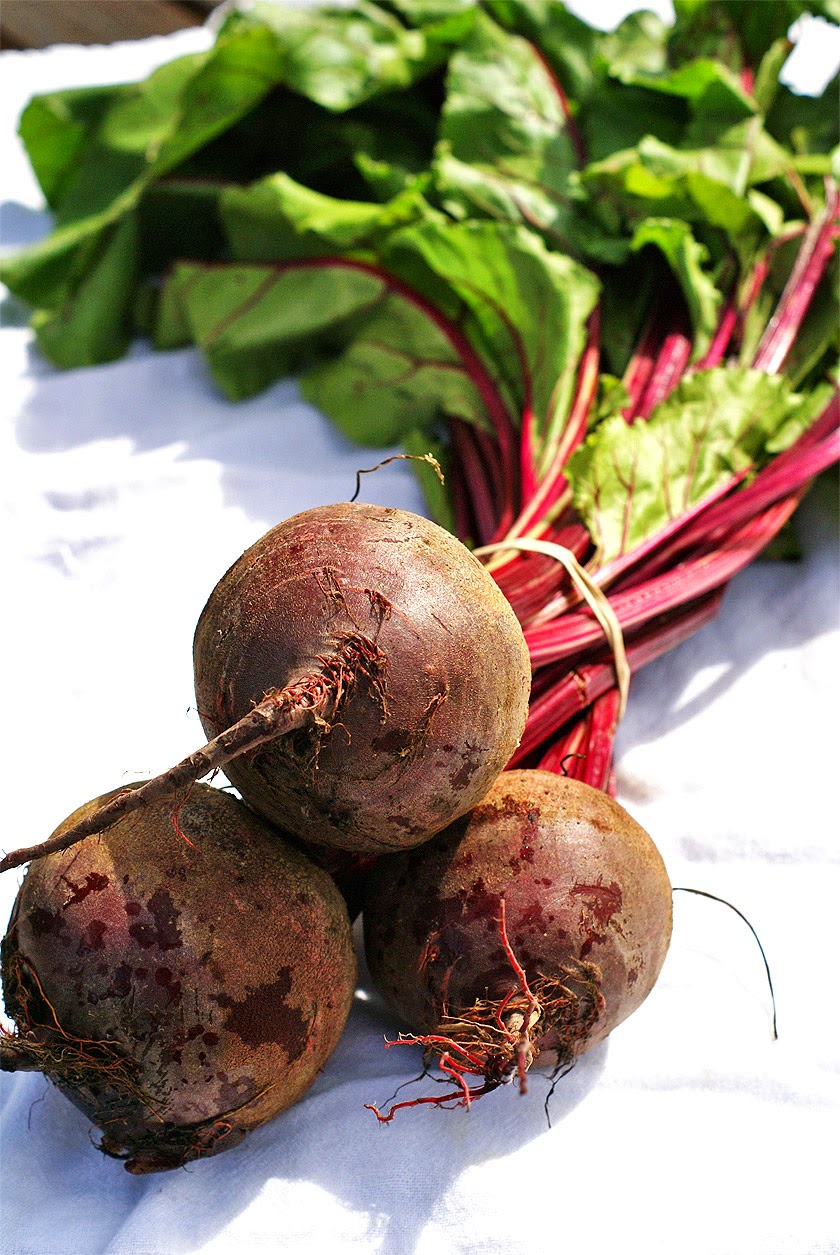 The first time I got fresh beets, I thought they looked a little scary. They came in my CSA farm box, were covered in dirt and seemed … hairy. How do you handle that? Does the juice stain? Are they hard to cook? The answers were … pretty easily, not really, and no!
The key to cooking beets is to simply ignore the scary look. Scrub them well to get off any dirt, cut off the greens ABOVE the bulb so you don't have to deal with the purple juice, and cook them with the skins on.
I think beets are so pretty inside. Some have white and red stripes inside instead of the red on red stripes in this photo. There also are golden beets; they taste the same as the red ones.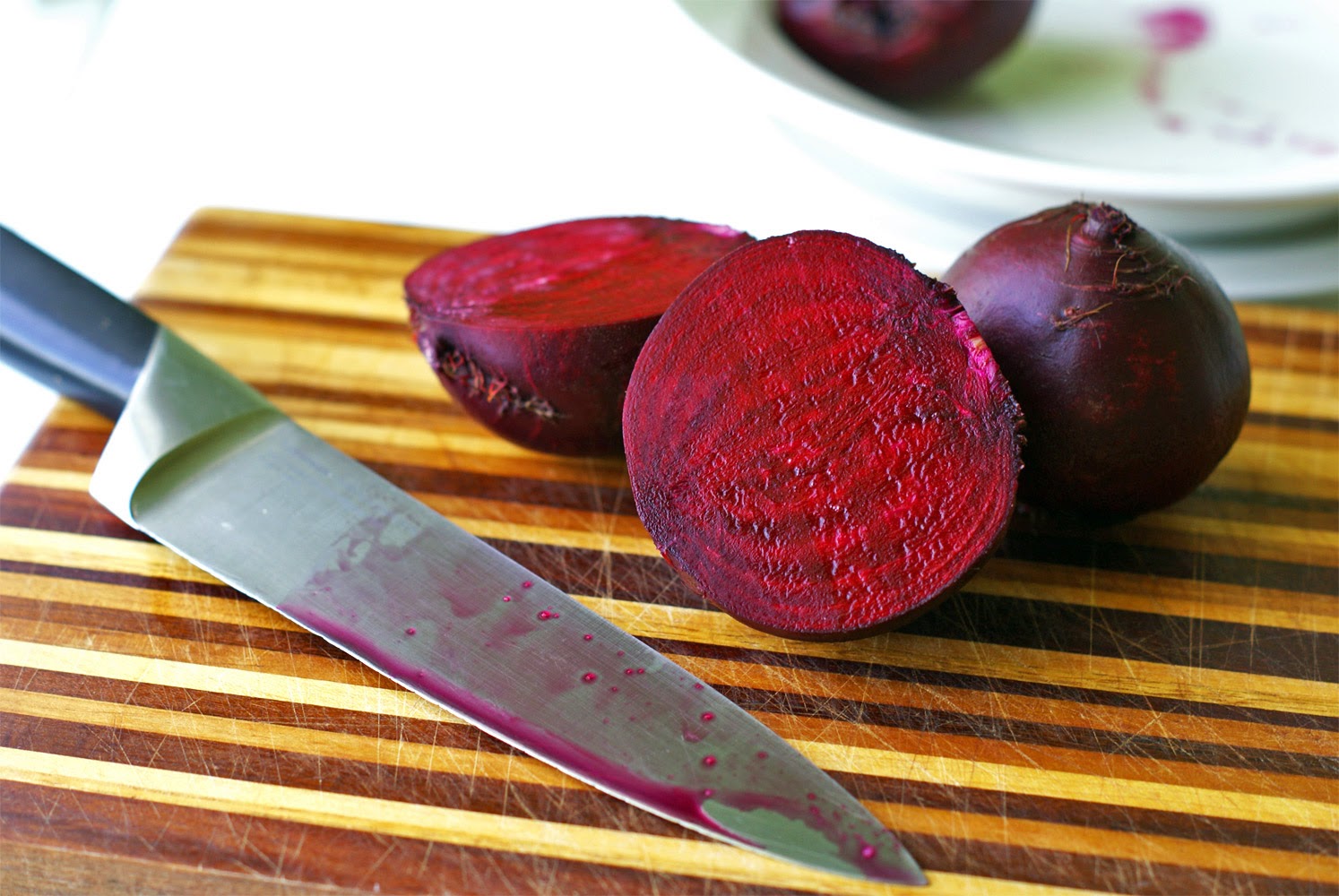 You can roast beets in the oven (400 degrees for about 45 min), boil them on the stove for about 45 min, or microwave them in about 12 minutes. I choose to microwave them. It uses less electricity, is faster, and the juice doesn't splatter all over the stove.
If possible, choose medium-sized beets that are about the same size. That way they'll cook in about the same amount of time. You can cut them in half to cook, but put the cut side down on the dish so it doesn't dry out.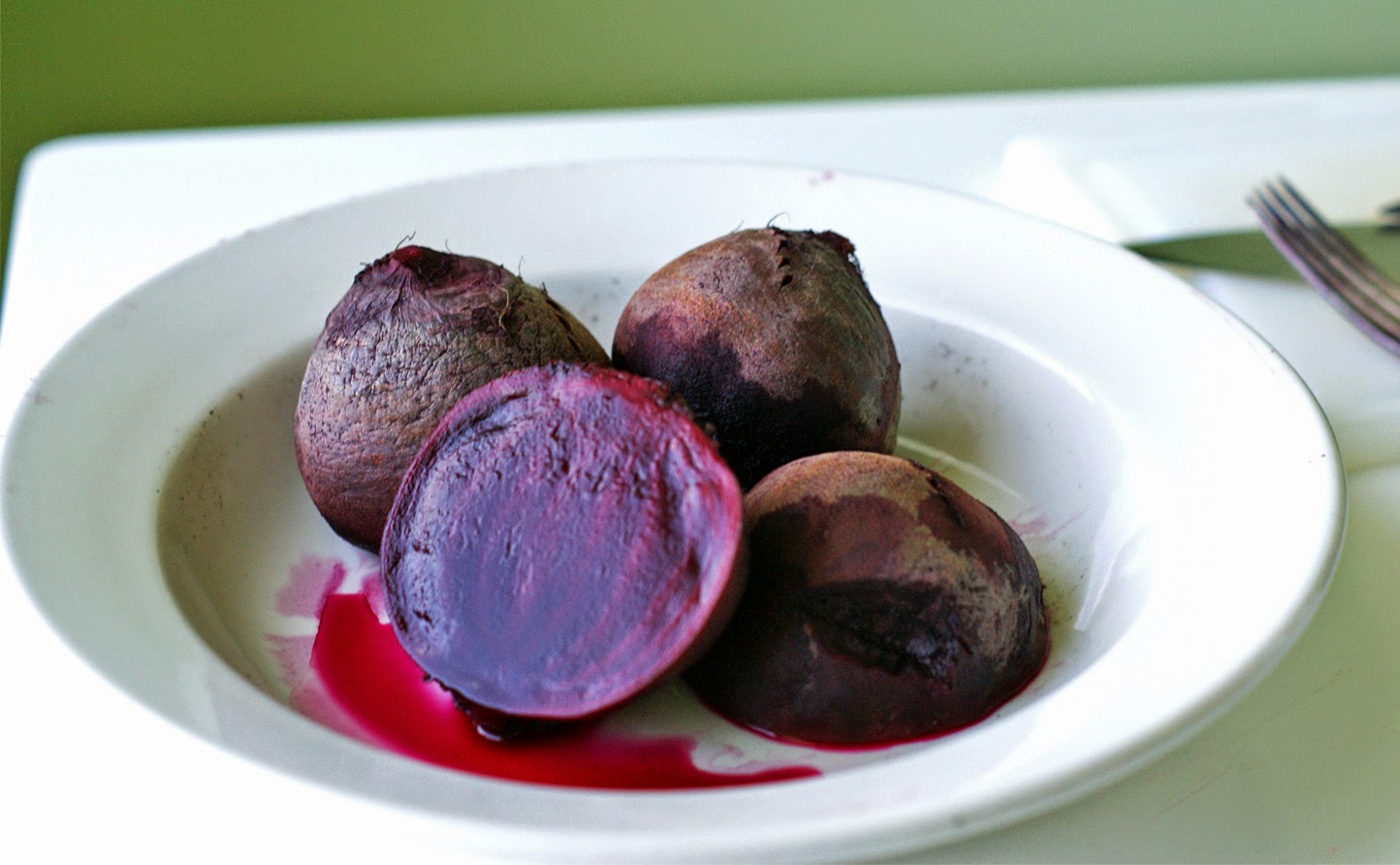 I cook them with the peel on to avoid a mess. Once they're done the peel comes off really easily with a knife, or even your fingers. It does make a bit of a mess, but that's part of the fun of it. Just don't rub your fingers on your shirt.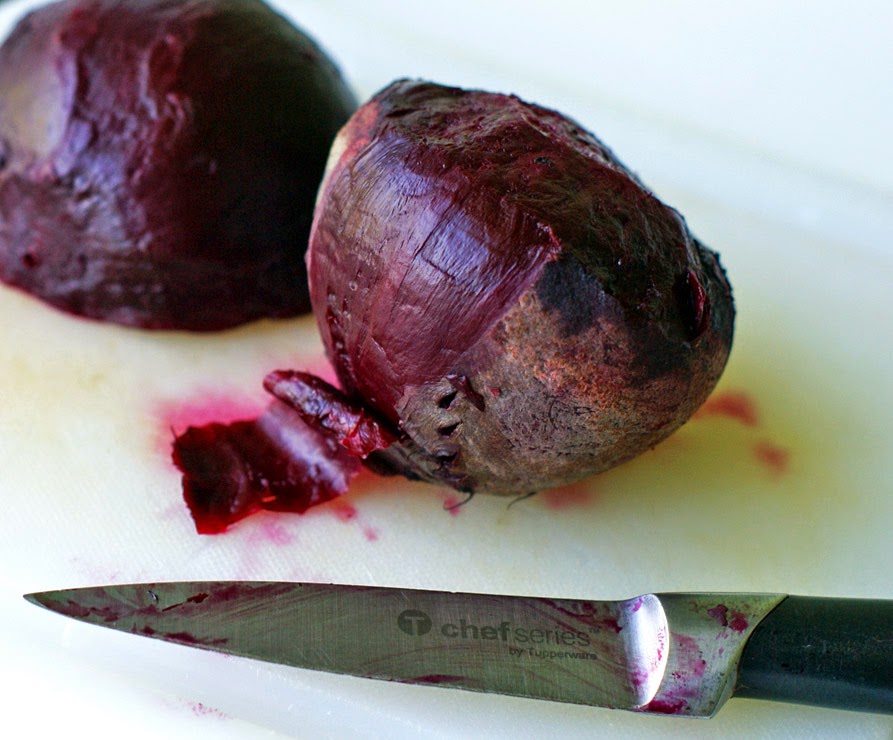 Once they're peeled, cut them up, cover with the marinade and chill in the refrigerator several hours or overnight.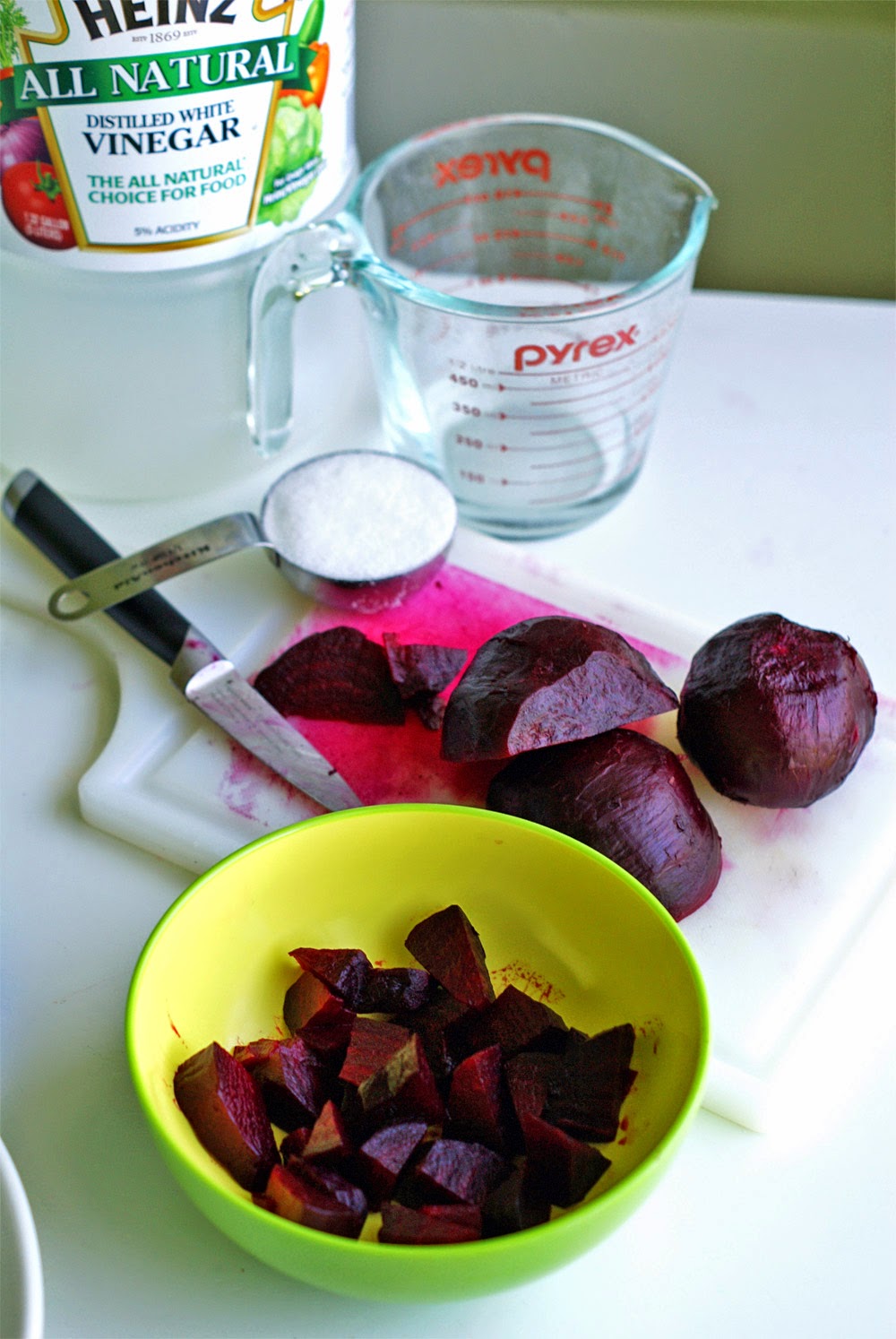 You can serve these on a salad, or as a simple side dish. Your kids won't notice they're eating a vegetable, and hopefully your husband (or wife) won't say they taste like dirt. Like I said, we serve these as a side dish with dinner a lot. They're high in fiber, and a good source of potassium, vitamins C and B-6, iron, and magnesium. Usually I don't even have to remind the boys to eat them, they're already gone before I've sat down at the table.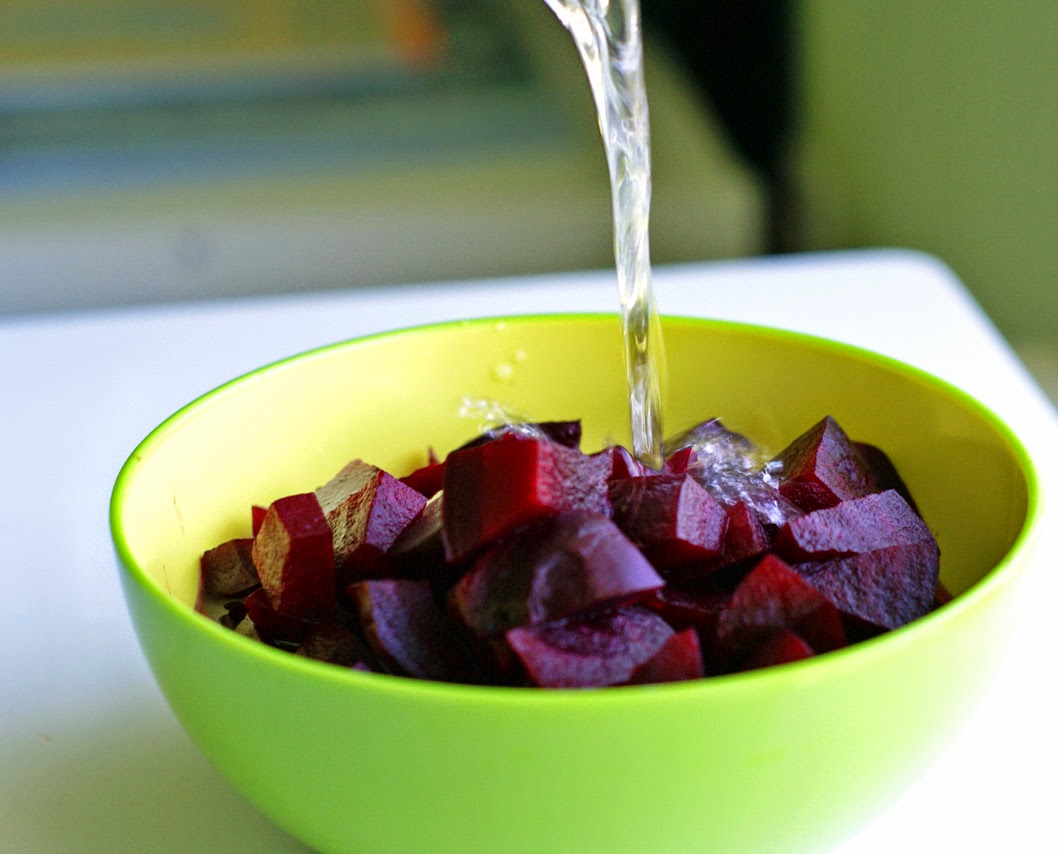 Pickled Beets
3-4 medium beets, any color
¼-cup water
¼-cup white vinegar
¼-cup sugar
Scrub the beets with soap and water, lightly dry, trim any long roots and the beet greens. Microwave on high in a covered dish for about 12 min, until tender with a fork. Depending on the size of your beets, check them about halfway through. If you're cooking smaller beets reduce the size or you'll overcook them. When they're done you can easily poke them with a fork and the skin will look loose.
Let the beets cool until you can easily handle them. Then, using a paring knife and your hands, peel the beets. The peel will come off very easily. Cut into ½-inch cubes.
Mix the water, white vinegar and sugar and stir until the sugar dissolves. If you're in a hurry you can microwave the mixture for 30 seconds, which will speed up the process. Pour the marinade over the beets and store in the refrigerator until you're ready to eat.