It's the day after Christmas and our fridge is still full of food. I love to cook for the holidays, so we traditionally have ham or shrimp on Christmas Eve and a standing rib roast on Christmas Day. This year we had ham, rice and asparagus with a creamy dijon sauce. Honestly, the boys aren't in love with asparagus, but they do love that it makes their pee smell strange, so they eat it for that effect. Whatever works, right?

I was pretty sick on Christmas day, so I didn't make the standing rib roast. We had some fun leftover ham and cheese inside crescent roll dough. They were super good and took about 10 minutes to prep. The roast is still waiting for me to make.
That got me thinking though, we have a lot of ham. My husband can eat ham in sandwiches for weeks, or just plain ham stacked with cheese, but I get sick of having the same old thing all the time. I want variation, adventure, and maybe something green once in a while. Pickles don't count as green veggies for me. Seriously, his lunch often consists of ham, cheese and pickles. There are no legit veggies in that combo.
In contrast, this meal has a very nice mix of meat, cheese, carbs, and one of my favorite veggies – snow pea pods. It's creamy and comforting, perfect for someone who has a sore throat and cough and needs some TLC ("hint, hint, cough cough," said the sick girl).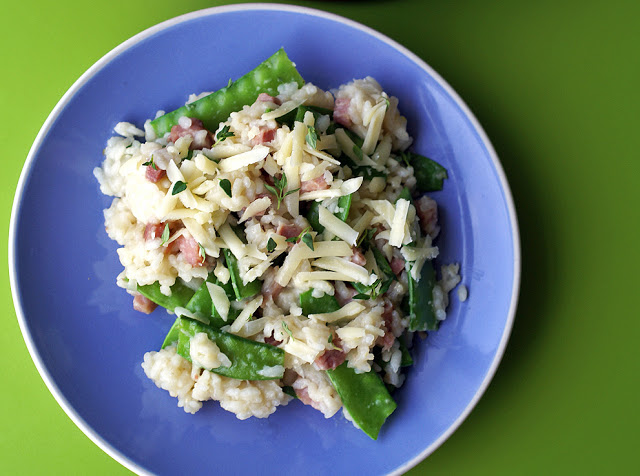 Ham Risotto with Snow Peas
1 Tbls olive oil
1 small onion, chopped
2 Tbls fresh thyme, minced
2 cups ham, chopped, more if you're so inclined
2 cups Arborio rice
6 cups chicken stock
3 cups snow pea pods, ends trimmed
1 cup grated Asiago cheese for topping
Heat oil in a large saute pan over medium heat, add the onions and thyme, and saute until soft.
Heat the chicken stock in a separate sauce pan until it's almost boiling, then keep it on the heat throughout the recipe.
Add the ham and rice, stirring to mix. Add about one cup of the stock, and stir until it's absorbed. Remember, when making risotto you have to be pretty active in stirring the entire time. Continue to add the stock in increments, stirring until the liquid is absorbed. Add the snow peas with the last portion of hot stock, stir until the rice is absorbed.
Serve with grated Asiago cheese on top.
Serves 6 generous portions.