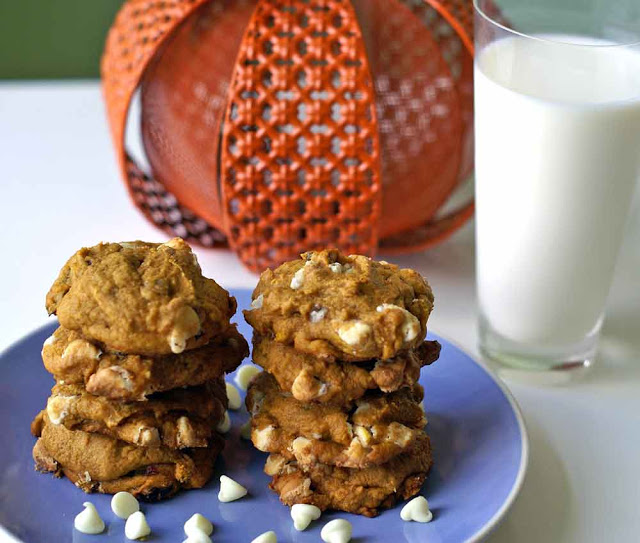 Last week Elaine from Ramblings of a (Bad) Domestic Goddess sent an email asking me to fill in the blank: "It's not Thanksgiving without ______ " What was my answer? Pumpkin pie of course! I love pumpkin desserts – pumpkin pie, pumpkin cheesecake, pumpkin bread, and these pumpkin cookies! And now that it's November, it's time to let my favorite desserts come to life!
My niece was visiting last week, and even though it's nearly 90 degrees here in southwest Florida, we decided to embrace Fall and do some baking. She doesn't really like white chocolate, I convinced her that it was exactly what these cookies needed. In the end she agreed. At least, I think that's what she said around the mouthful of cookies!
We made half of these with dried cranberries for a little bit of tanginess, and half without. Both versions are great.
The original recipe is from the King Arthur Flour website. While most of the reviews were very positive, a few complained that the cookies were too cake-like. I agree that the cookies aren't like your typical Toll House cookies, but that's because of the pumpkin, which gives the cakey texture. Just think of them as little bites of pumpkin bread stuffed with white chocolate chips and tangy cranberries. They're moist, soft and very, very good.
We added a little extra brown sugar to the recipe, plus some nutmeg. Also, we switched out the chocolate chips for white chocolate. Super creamy and sweet.
And, after the boys got a hold of them, they're all gone!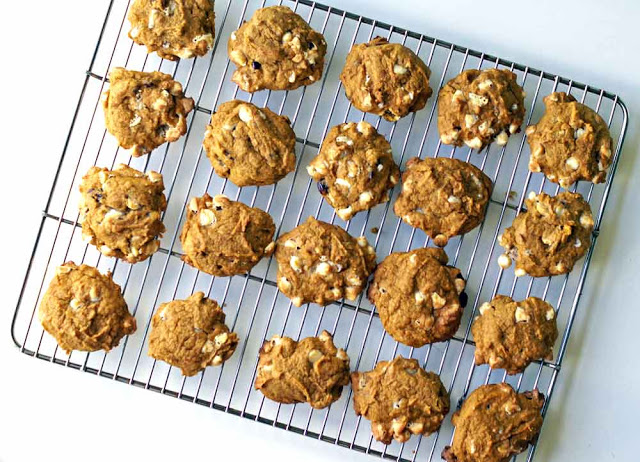 This recipe adapted from Pumpkin Chocolate Chip Cookies.

White Chocolate Pumpkin Cookies
1 cup whole wheat flour
1-1/4 cups all-purpose flour
1 tsp baking powder
1/2 tsp baking soda
1/2 tsp salt
1-1/2 tsp cinnamon
1/2 tsp nutmeg
1/2 tsp ground ginger
1 cup unsalted butter, softened
1/2 cup + 1 tbsp brown sugar
1/2 cup granulated sugar
1 (15 oz) can pumpkin
2 large eggs
1 tsp vanilla extract
2 cups white chocolate chips
1 cup dried cranberries (optional)
Preheat oven to 375°F. If not using non-stick baking sheets, lightly grease them or line with parchment paper.

Combine the dry ingredients and mix to evenly distribute the baking powder, soda and spices.

Beat the butter and sugars just until smooth. Add the eggs and beat in one at a time, then add the pumpkin and vanilla, mixing thoroughly.

Slowly add the dry ingredients, mixing until everything is combined. Finally, fold in the chocolate chips and cranberries.

Drop by tablespoon onto the baking sheets and bake until lightly browned on the edges, about 20 minutes. Allow them to cool on the baking sheet for a few minutes, then transfer to a cooling rack.

Store in an airtight container.

Makes about 4 dozen cookies.