We recently took a vacation on the Disney Dream. The four-night cruise was fabulous, with great food, a beautiful ship and lots of fun activities for all of us. I admit, it took some convincing for my husband to agree to the trip. In fact, he wasn't really convinced when I booked it, or even really when we embarked. We'd been on one cruise almost 20 years before, on a budget cruise line, and the experience was less than stellar. Since then, he's figured he didn't like cruises, instead of not liking that cruise line. Regardless, I knew that Disney always does a great job and had heard great things about the cruises, so was determined to book it. I think my words were, "shut up, I'm booking this. It's my vacation too." or something along those lines. You know, what an understanding, loving wife usually says to her husband. Luckily I wasn't wrong, and everyone, even my husband, had a fantastic time.
One of the great things about the cruise is the number of activities there are for all of the guests to participate in, even the adults. And, they aren't the activities you see in a lot of vacation resorts that involve bouncing a ping pong into a shot glass or slinging pool water around in a bucket. The activities vary, of course, but a lot of them are quieter, and even educational. There are cooking classes, ship tours, cocktail tasting classes and even a class to teach you how to make the folded towel and blanket animals we found in our stateroom each night. On the first night of the cruise, we attended a guided whiskey tasting.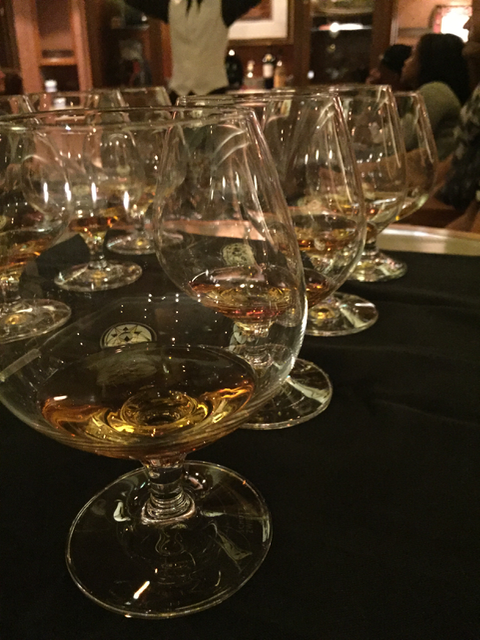 I'm sharing this info because I couldn't really find anything about the tastings before we left. If you want to be surprised, read no further, because I share details about what we tasted. I had promised my husband there would be activities he would enjoy as well, and thought I'd seen mention of a whiskey tasting, but then got worried there wouldn't be one. Turns out they held two, along with a champagne tasting, tequila tasting, and a mixology class.
The tasting was held in the Meridian bar, on deck 12. The bar is between the two a la carte restaurants, Remy and Palo. It's sleek and quiet, and feels very sophisticated. We were greeted by the bartender, Novi, who was very funny and knowledgeable – a great host for our first night on the ship. The tasting was a pretty intimate affair, if I recall, 10 people attended. It's a ticketed event, so make sure you sign up at Guest Services.
Novi introduced us to four different whiskeys, giving us the history, a bit about the flavor of each, and allowing us to taste them. He instructed us to tip the glass to watch the tears and the legs of the whiskey, meaning how the whiskey spreads in the glass and runs down the side. Some are slightly more viscous than others, which affects the quality of the liquor in your mouth. We also had a glass of water and a straw, and for a couple of the whiskeys he advised us to add a strawful of water to the glass after trying it straight to compare.
Here's what we tried:
1. Macallan 18 – a single malt whiskey, it has never been mixed. Novi says the secret of the single malt is the climate. The tears and legs of this whiskey are thin and fast, but smooth. It sells for $14 oz on the ship.
Did you know that the first recorded whiskey making is dated 1100-1300 by the monks?
2. Johnny Walker Black – a deluxe blended scotch, it has a smokey flavor from the peat that is burned during distillation and the barrel in which it's aged for 12 years.

Johnny Walking is a symbol of forward thinking and pursuing excellence. He also told us some intriguing stories about the marketing of Johnny Walker, but I don't want to spoil everything for you.
3. Blanton's single barrel bourbon – This is one of my husband's favorite bourbons, so the round bottle was a familiar sight to us. Like all bourbons, it's made from 51% corn mash and is aged for 8 years in one barrel. There's a statue of a horse from the Kentucky Derby on the cork, and it changes every year to honor the winner.
"When you smell or you're gonna hate it, when you taste it you're gonna love it," Novi said. He was right as many of the attendees cited Blanton's as their favorite.
4. Middleton Very Rare Irish Whiskey – Jameson owns the company that makes Middleton. Irish whiskey must be distilled three times, then aged in American bourbon barrels for 15-25 years.
Novi's recipe to cure a cold: make a cup of hot tea, add a shot of Jameson Irish whiskey, 1 tsp honey, lemon juice, and 1 oz ginger juice. Drink it before sleep and wake up feeling great!
All of the alcohol tastings require a "nominal fee" as well as an advance reservation. I'm pretty sure they're all booked full rapidly, so go to Guest Services to reserve a spot as soon as you can. I cannot find where we were charged for this tasting, but I know the champagne tasting we attended was $35 a person. While that's a bit steeper than "nominal" in my book, it was well worth it. We were served generous portions of each liquor, and honestly, many of these I never would have tasted, or afforded, on my own. One of the things Novi stressed was the ability of Disney to purchase in such large quantities that they could charge guests less than the going rate on the ship. For comparison, a bottle of Macallan 18 retails for about $240, Johnny Walker Black is $32, Blanton's is $70, and Middleton is $150. Granted, none of these are crazy expensive, but that's the retail cost, not the cost on a fancy cruise ship. So, I felt the cost of the tickets were well worth it.