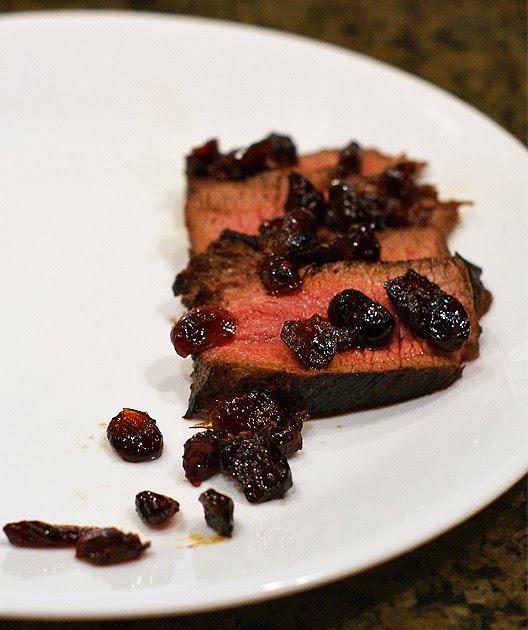 My boys love meat, and this week I was craving steak. So, I got a couple of beautiful little sirloin steaks from the butcher counter. They were so pretty, I didn't want my husband to do his standard, "salt and pepper and throw them on the grill" treatment. While that's good, it's pretty ordinary, and I wanted something special.

I found a fun recipe on All Recipes, but didn't have any raisins, so I substituted dried cranberries, which my boys love. I'd never marinated steak in straight whiskey before, but after this meal I'll definitely do it again.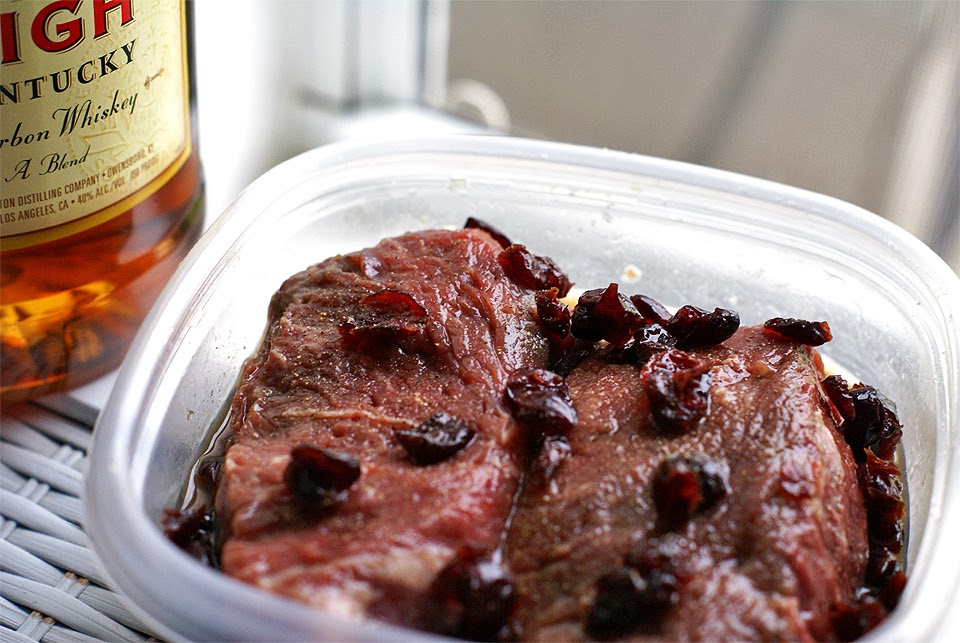 Marinate the steaks and cranberries in the whiskey-brown sugar mix for about half an hour.
I cooked the steaks in a skillet, which I know many cooks frown upon, preferring a flaming grill. But, I worked at Outback Steakhouse® restaurant for a couple of years, and learned a lot about cooking steaks while I was there. All of the steaks there are cooked on the flat-top grill. This is basically equivalent to your standard kitchen frying pan. A super hot, flat surface to cook the meat on. The key is to cook the steak at the right temperature for the right amount of time. At Outback, that meant something like 500 degrees for 7 minutes per side. The line cooks controlled the temperature of the steak, meaning how well it was cooked, by choosing thicker or thinner steaks. The thinner the steak, the more well-done it was served. I try to stick with the same technique at home, choosing steaks of equal thickness and cooking for a set amount of time.
I have a set of KitchenAid pans that are great. The non-stick coating is excellent, and they're oven safe to 400 degrees, so I can start a meal on the stove and finish it off in the oven using the same pan. That's an affiliate link to Amazon, by the way.
Since our family prefers steaks to be medium to medium-rare temperature, I try to choose steaks that are about an inch to 1.5 inches thick and cook for about 7 minutes per side. If they're thinner I go with 4 or 5 minutes a side. One thing you want to avoid is the "turn and burn." That's when you cook it much longer on one side than the other. This causes the steak to cook unevenly, and you can see it when you cut into it. The cooked brown part of the steak will be much thicker on one side than the other. Also, this usually causes the steak to be overcooked.
With this recipe you cook the steak with the marinade and cranberries in the pan. Pull the berries out after about five minutes and set them aside. Cook the steak for two more minutes, then flip them and cook for seven more minutes.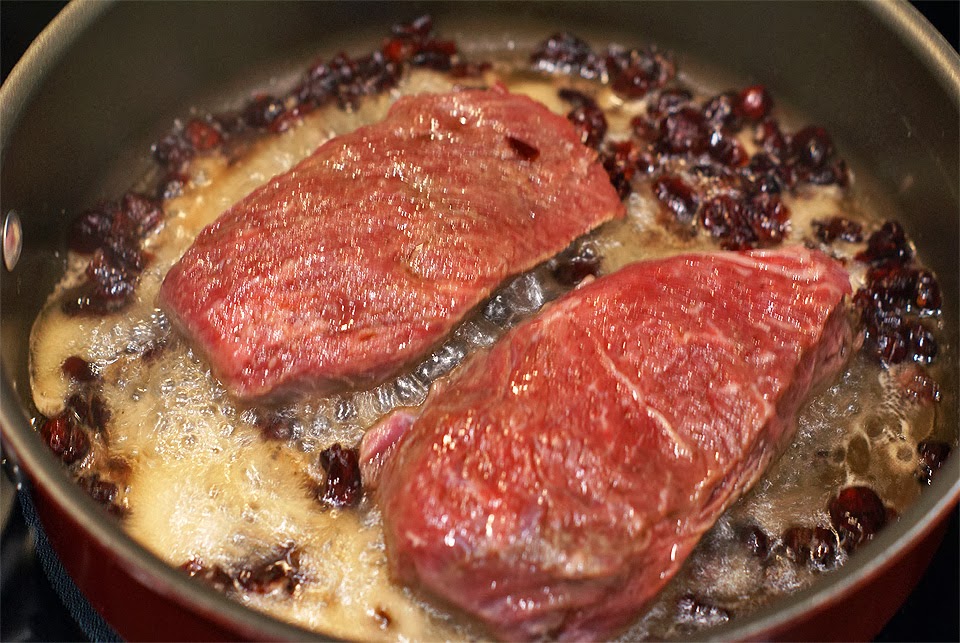 After you pull them out of the pan, let them rest for a few more minutes. The meat will continue to cook while it's sitting, and the juices will be pulled back into the meat, making for a juicier meal. If you cut the meat right away, the juices will run all over the cutting board and will be lost.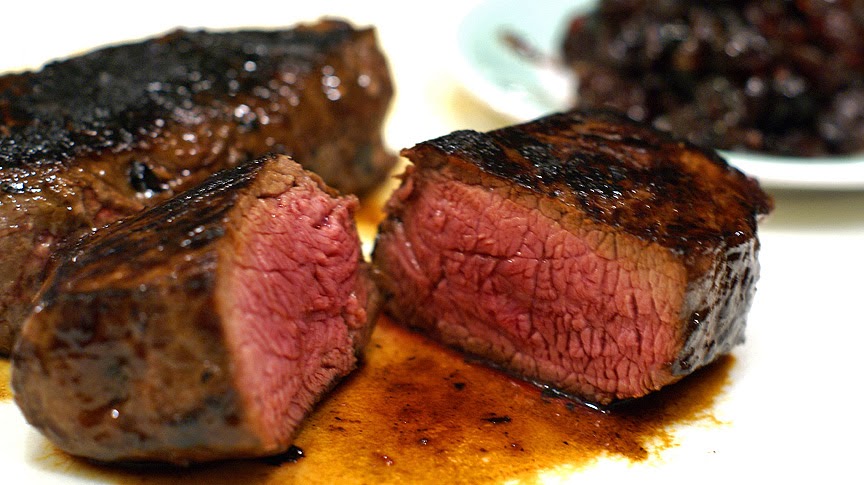 A medium-rare steak is slightly firm with a warm, red center. This is just a little past medium rare, which is perfect for our family.
Serve the steak with the cranberries. We had this meal with biscuits and several veggies – tomatoes with mozzarella cheese, raw red pepper slices and jicama slices. Everyone cleaned their plates – success!
I'm curious, how many different veggies do you serve with a meal? Many of our meals, like this one, have several choices. Do you do that? Or just one? Tell us in the comments.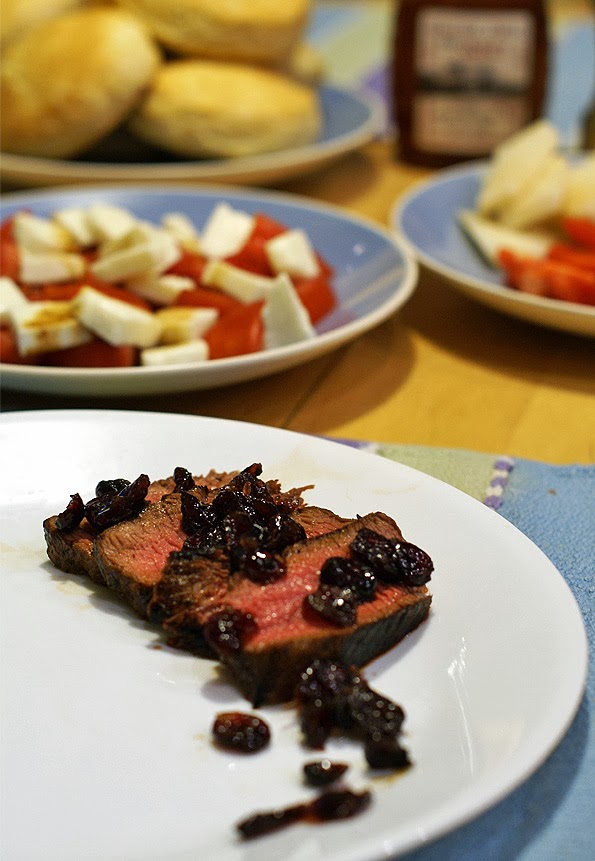 Whiskey Sirloin Steak and Cranberries
1/2 cup dried cranberries (Craisins)
1/4 cup whiskey (such as Ten High® Kentucky bourbon whiskey)
2 tablespoons brown sugar
2 (6 ounce) boneless beef sirloin steaks
1 teaspoon canola oil
Combine the brown sugar and the whiskey in a small covered bowl and mix until the sugar is dissolved. Add the cranberries and steaks, turning to coat with the marinade. Cover the bowl and marinate in the refrigerator for 10 to 30 minutes.
Heat canola oil in a large skillet over medium high heat. Transfer steaks, cranberries and marinade to the hot skillet.
Remove the cranberries from the skillet with a slotted spoon once they have plumped, about 5 minutes; set aside.
Cook steaks to desired doneness. For medium rare, they should be slightly firm and have a warm red center, about 5 to 7 minutes per side. An instant-read thermometer inserted into the center should read 140 degrees F.
Serve the steaks with the cranberries.
This recipe serves two adults and two little ones. The portions are easily adjusted by increasing the amount of marinade to cover the desired number of steaks you're preparing. You don't need a lot of marinade, just enough to cover the meat.

Adapted from Raisin Whiskey Steak.