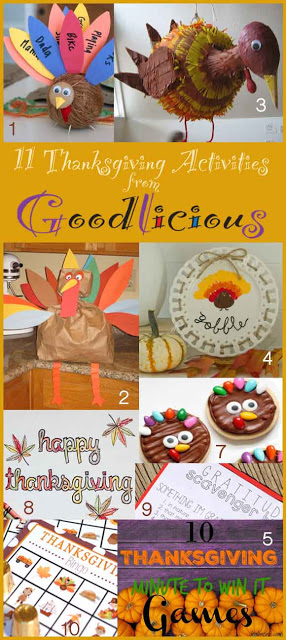 Want to know a secret? I think Thanksgiving is boring. Well, not for me, exactly, because I'm usually busy cooking. But, when I was a kid, I felt like I was cooped up waiting for dinner. We always ate later in the day, and all of the focus was on dinner. So I was surrounded by good smelling food that just wasn't ready to eat yet.
And, the adults weren't much help. They were usually watching football or talking about adult stuff. And, back when I was a kid, we only had one TV in the house.
Yes, we have video games now, and five thousand television channels, and the Internet. But sometimes it's nice to unplug and do something with your hands. Make something, play with something, even eat something. In preparation for the long weekend, I've put together some fun ideas for the kids.

1. Jamie of Creating Really Awesome Free Things shares a great idea for a Thankful Turkey. It's cute and easy to personalize. You could do some of the prep beforehand, such as wrapping the styrofoam ball with yarn, or leave it all to the kids, which should keep them occupied for quite a while. I can think of lots of ways to personalize this, maybe have one giant turkey that everyone, adults included, add gratitude feathers to. Or, maybe have the kids create a small one for each guest to use as a place marker.
2. Get out the baseball bat and Paper bag Turkey Pinata by Kim at the Kim Six Fix. She doesn't call it a pinata, but I think it could be a quick, fun activity to put it together, load it with treats then beat the heck out of it to get the treats back out. She doesn't include any instructions, but it looks like it would be pretty easy to figure out.
3. Or, if you are planning ahead, you can make a turkey pinata a few days in advance, then just break it open the day of. There are lots of examples on Pinterest to copy. Here's a cute, step-by-step pictorial guide to make a one on Touch the Spindle.
4. While the turkey is roasting, you can have the kids use their fingerprints to paint a turkey on a plate. Finish it off with Modge Podge after dessert. Include the year, and it's a perfect keepsake to remember the holiday. Samantha from Little Bits of Home shared this great idea for a Turkey Plate.
5. Have a quirky race – run while balancing a pumpkin on your head, blow leaves across a table with a straw, rearrange dried beans using chopsticks. Kimberly from Lou Lou Girls has a great list of 10 variations of "Minute to Win It" games that can provide a fun break from cooking and feasting.
6. Have your guests and kids decorate a white tablecloth with holiday-related drawings and messages. You can pick up fabric markers from a craft store such as AC Moore or Joanne Fabrics, or use super fine Sharpie markers. You can turn this into a tradition and add more each year.

7. Decorate some cookies. Since your oven will be occupied with turkey, stuffing, etc., I suggest you bake the cookies the day before, then you can relax with the kids and decorate them while you're waiting for everything to finish cooking. There are loads of ideas on the web. These cute turkeys from Meaghan at The Decorated Cookie look easy and open to interpretation.
8. Give the kids some coloring sheets or paper place-mats to stay busy while waiting for dinner to be served. Again, like some of these ideas, there are loads of examples on the web. Carla at Kids Activities Blog has some cute, simple designs that would appeal to both younger and older kids.
9. Have a Gratitude Photo Scavenger Hunt. This is a great idea for getting the entire family off the couch and having some fun. Shari from Let's Get Together posted a great list, but you could always modify this depending on your weather and your guests' interests. Once everyone has taken their photos, you can all gather and share what you've found.
10. Play BINGO. Amber from Crazy Little Projects created a cute set of Thanksgiving BINGO cards. Or, you could create your own to play during the parade. Hand out blank cards and have everyone fill in the cards with items they think they'll see during the parade. Then, as you watch, circle what you find, and the first person to get five in a row wins.
11. Break out the board games. We love the classics: Monopoly, Sorry, Trouble, Uno and Chinese Checkers. And remember, even though you might have played it a million times, it's new and fun for your kids. And, except for Monopoly, most of the games take a lot less time than I remember. So, break away from the kitchen and play a game. Maybe you can start an annual tournament.