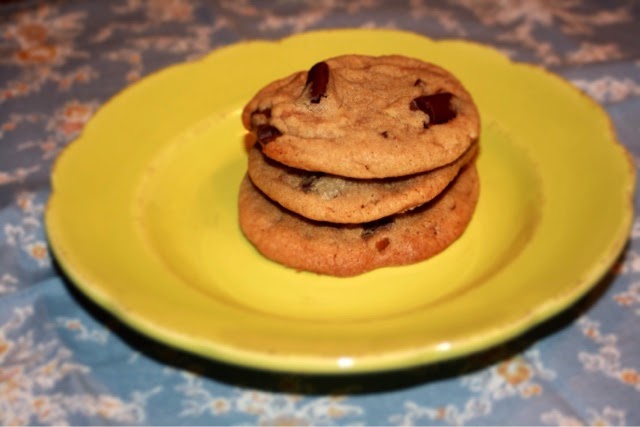 It's Teacher Appreciation Week. I know this because Pinterest is full of cute ideas for gifts, but also because I am a teacher myself. I have been getting emails every day this week from counselors and administrators thanking me for my work. Every ping in my inbox has been like a whisper in my ear: "You haven't done anything for the boys' teachers yet. You still haven't done anything for the boys' teachers?" So I finally got around to it on Thursday. Nothing like the last minute.
I saw this recipe for
Brown Butter Chocolate Chip Cookies
recently from Joy at
Joy the Baker
and was intrigued. I love chocolate chip cookies and this one was different enough that I wanted to give it a try. I have been sick and haven't cooked in a couple weeks too, so I was kind of itching to get in the kitchen and give the stand mixer a go. We have been lucky to be able to send our boys to a wonderful preschool with fabulous teachers, and I hope some homemade goodies will convey how much we do appreciate them.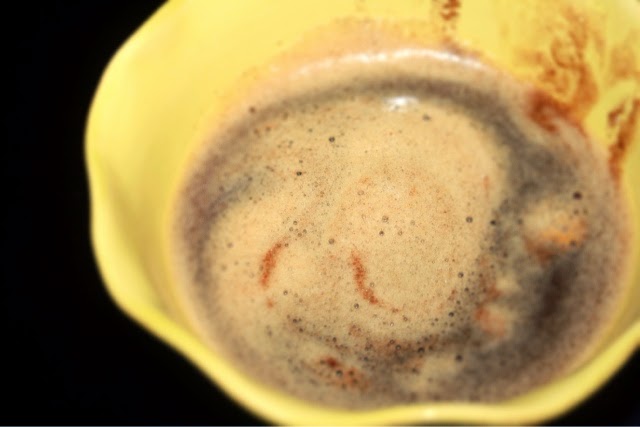 browned butter with little bits of deliciousness
I won't do a step-by-step since Joy does a better job of that than I could on her website. This was my first time making browned butter for a recipe. I have to admit, it's a bit nerve-wracking. The butter is burning! At one point, some butter popped out and smoked on the burner and Corbie asked, 'Is this a fire danger, Mom?' I kept thinking of an old episode of Friends where Rachel has been given the task of making dessert for Thanksgiving dinner (Rachel: 'How do you know when the butter's ready?' Monica: 'About two minutes before it looks like that.') Worries aside, it worked out and does add a unique flavor to the cookies.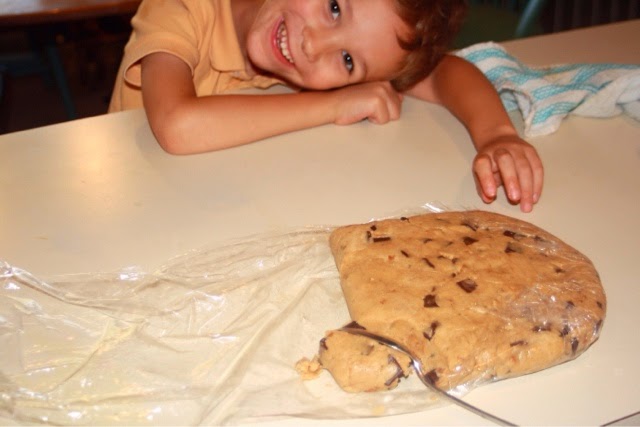 obligatory picture of the helper with the chilled dough
After browning and cooling the butter, you mix the dough up and then chill it for half an hour. One of the many things my son has learned this year at school is that one should not eat raw eggs. So whatever you do, do not eat this dough raw. Or, you know, hide from the eyes of your judgey five-year-old and sneak some while you're pretending to wash dishes at the sink. Whatever.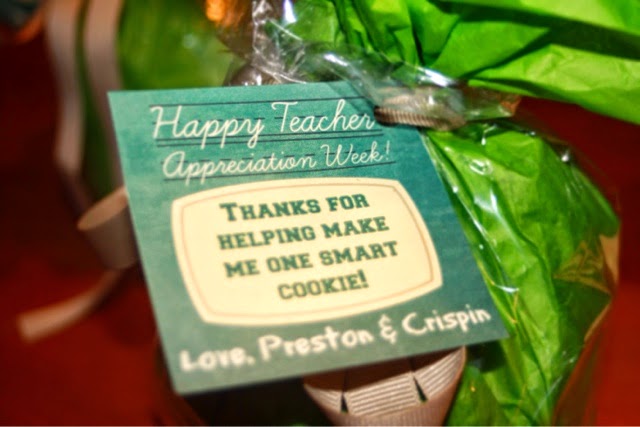 After baking and cooling the cookies, I packed up a dozen for each teacher with a little tag. These are pretty much everything you could ask of a chocolate chip cookie: they're substantial, crunchy and yet chewy, with a sweet/savory flavor that I loved. That said, they're definitely more labor and time-intensive than your typical chocolate chip cookie recipe. The butter has to be browned, and then cooled. Then the dough has to be chilled before baking. Are they worth it? I won't be making these for a random late night craving, but for someone you really love (or appreciate)? Worth it.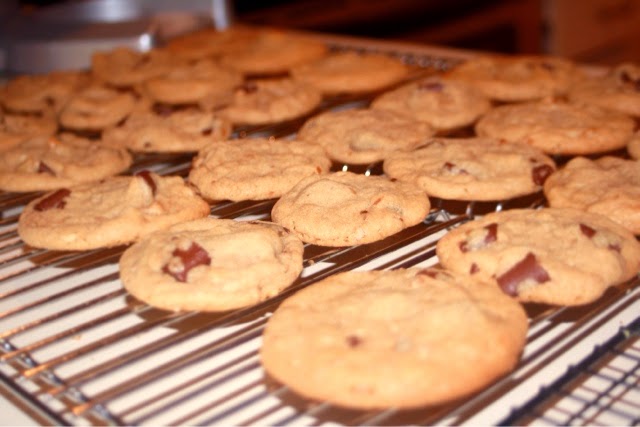 Brown Butter Chocolate Chip Cookies with Pecans
 makes 24 cookies
 2 1/4 cups all-purpose flour
 1 teaspoon salt
 1 teaspoon baking soda
 1 cup (2 sticks) unsalted butter, softened to room temperature
 1 cup packed light brown sugar
 2 teaspoons pure vanilla extract
 1 teaspoon molasses
 1/2 cup granulated sugar
 1 large egg
 1 large egg yolk
 1/2 cup coarsely chopped pecans
 1 cup bittersweet chocolate chips
 coarse sea salt for sprinkling
In a medium bowl, whisk together flour, salt and baking soda. Set aside. Start by browning 1/2 cup (1 stick) butter. In a medium skillet, melt butter over medium heat. Once the butter has melted completely, it will begin to foam and froth as it cooks. The butter will also crackle and pop. That's the water cooking out of the butter. Swirl the pan occasionally, and keep an eye on the melted butter. The butter will become very fragrant and brown bits will begin to form at the bottom of the pan. Once the bits are an amber brown, immediately remove pan from the heat and pour browned butter (bits and all) into a small bowl. Leaving the butter in the pan will burn it. Allow butter to cool for 20 minutes.
 In the bowl of a stand mixer fitted with a paddle attachment, cream remaining 1/2 cup of butter with brown sugar. Cream on medium speed until light and fluffy, about 3 to 5 minutes. Add the vanilla extract and molasses and beat until incorporated.
 Once the brown butter has cooled slightly, pour the butter (brown bits and all) into the creamed butter and sugar mixture. Add the granulated sugar and cream for 2 minutes, until well incorporated. Add the egg and egg yolk and beat for 1 minute more.
 Stop the mixer and scrape the bottom of the bowl to ensure that everything is evenly mixed. Add the flour mixture, all at once to the butter mixture and beat on low speed until the flour is just incorporated. Remove the bowl from the stand mixer and use a spatula to fold in pecans and chocolate chips.
 Spoon batter onto a piece or parchment paper or plastic wrap and wrap into a disk or cylinder and seal at both ends. Allow to rest in the fridge for at least 30 minutes.
 Place racks in the center and upper third of the oven and preheat oven to 350 degrees f. Line two baking sheets with parchment paper. Scoop dough by the two tablespoonful onto prepared sheets. Sprinkle with sea salt. Be sure to leave about 2-inches of space between each cookie.
 Bake for 12 to 14 minutes of until cookies are golden brown. Remove from the oven and allow to rest on the baking sheet for 5 minutes. Serve warm or allow to cool completely. Cookies are best enjoyed within a few days. Duh.