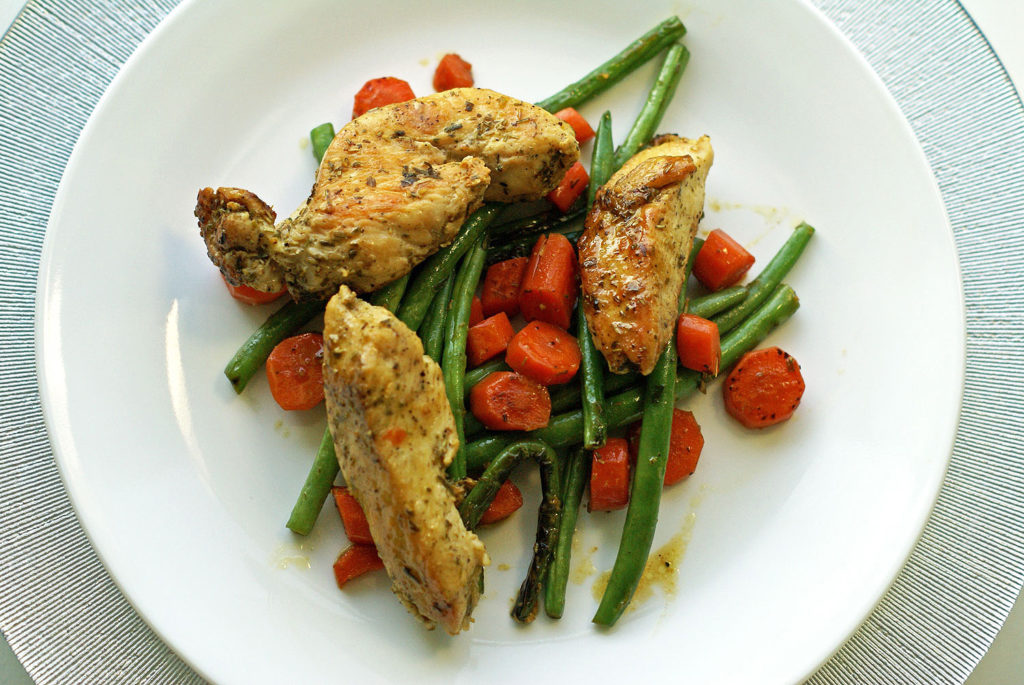 Do you watch Grey's Anatomy? Remember when Lexie and McSteamy are finally getting back together, she's cooking him dinner on the night he tells her Callie is pregnant with his baby? She says she's putting tarragon in the dish. She doesn't know what it does, but it just seems more sophisticated and mature than the other herbs she usually uses, so she's cooking with it. It's very cute and kind of romantic, especially since she's much younger than he is and that's always been a tension between them.
Of course, then he tells her Callie is pregnant, so he's going go be a father, and blows the whole evening. Lexie was just getting used to the idea of settling down with him; the last thing she wants is to be a mother to his baby by another woman. She storms out of the apartment and dinner is over. So, we never know how her tarragon dish turns out.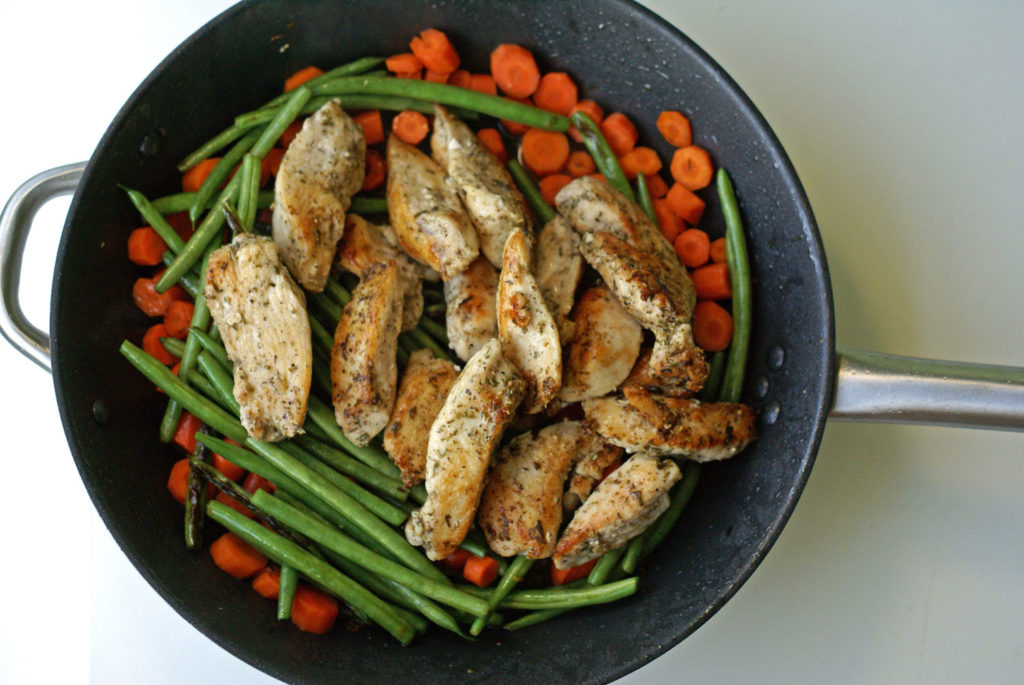 Personally, I love tarragon. Like Lexie, I think it's sophisticated and different, so I often choose it instead of the standard thyme, basil and rosemary people put on chicken. This recipe uses tarragon and rosemary, but the tarragon is the star.
The other star is salt. Not too much of it, just enough to bring out the flavor, which is achieved through time. That's right, time. And, no, this isn't a meal that takes forever to cook. It's an easy weeknight meal that I make often. The key is prepping things in the right order, so the salt and herbs can do their magic while you prep everything else.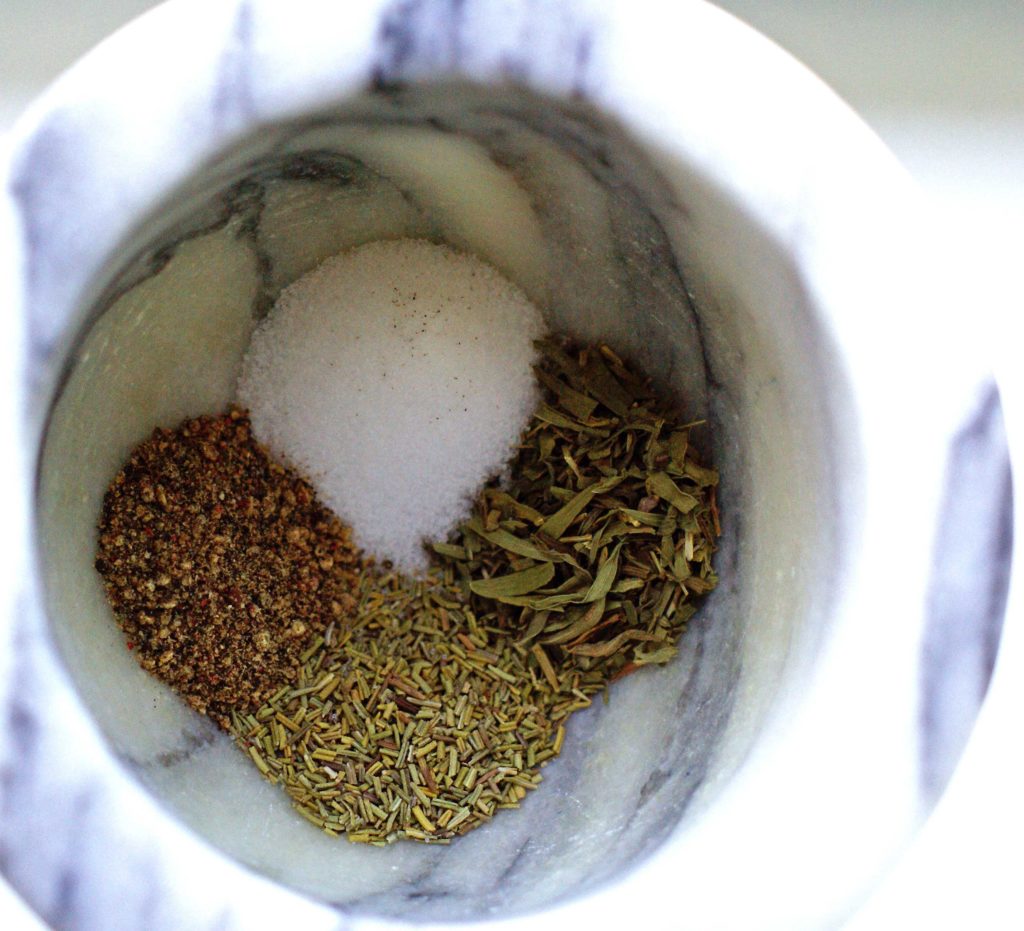 Start by mixing the salt, pepper, tarragon and rosemary. Since I'm using dried herbs, I like to put them all in my mortar and mix them while crushing a bit with the pestle. It helps to release some of the oils from the dried herbs. And mixing them first makes it much easier to apply. Then cut the chicken breast into strips, about 1 to 1 1/2 inches long. That way they all cook in about the same amount of time. Sprinkle the herb mixture over the chicken, mix it around really well, and let it sit at room temperature for about 10 to 15 minutes. Use this soaking time to prep the veggies. I used green beans and carrots, but zucchini, summer squash, or snap peas would work just as well. Just make sure to adjust the cooking time for your chosen veggies. You also need the juice from one clementine. You use the juice last, so you can usually juice this while things are cooking. But, if you get stressed trying to prep and cook at the same time, do it before so you have everything ready.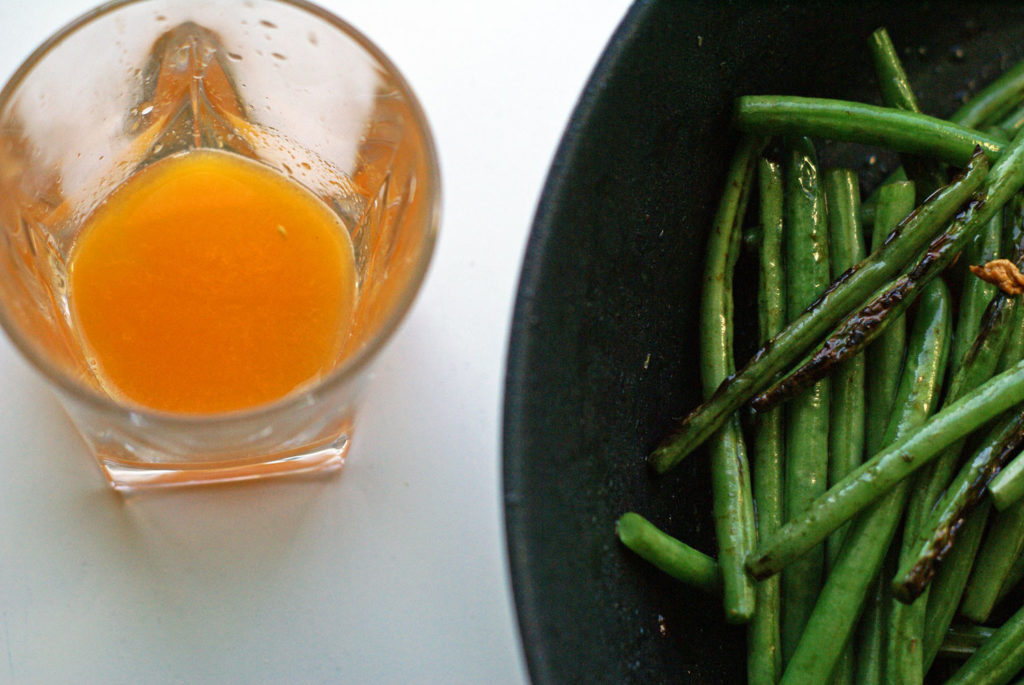 Once you're prepped, and the chicken has rested in the herbs and spices for a while, heat some oil in your skillet at about med-med-high (number 7 on my electric stove). I use canola for this because it has a higher smoking point than olive oil. You can use peanut or vegetable oil too. Then put the chicken in, and allow it to cook for about four minutes a side. Once you have it in the pan, don't disturb it. Let it cook until it starts to brown, then turn it to the other side. You won't get that nice golden brown if you move it around a lot.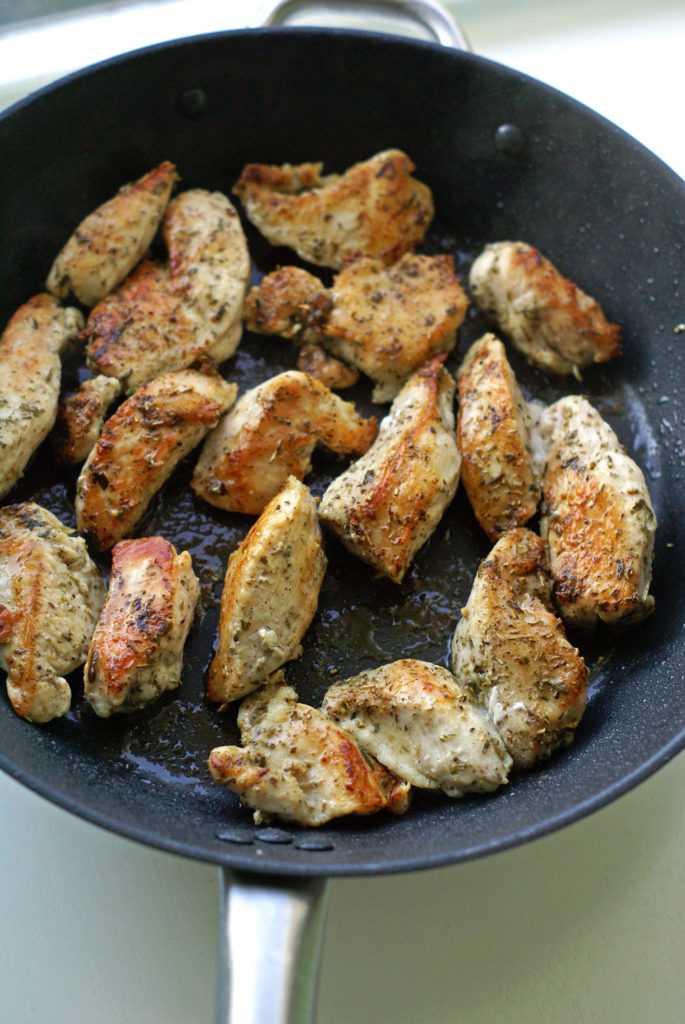 After the chicken is cooked on both sides, remove it to a plate and cover with foil. Add the green beans and carrots, and let them cook for about the same amount of time. You want the beans to get that nice scorched look to them, not burnt, but not boiled, either. So, like the chicken, don't move it around in the pan a lot. Let it get cooked, them flip it halfway through. This also will take about 8 minutes to cook.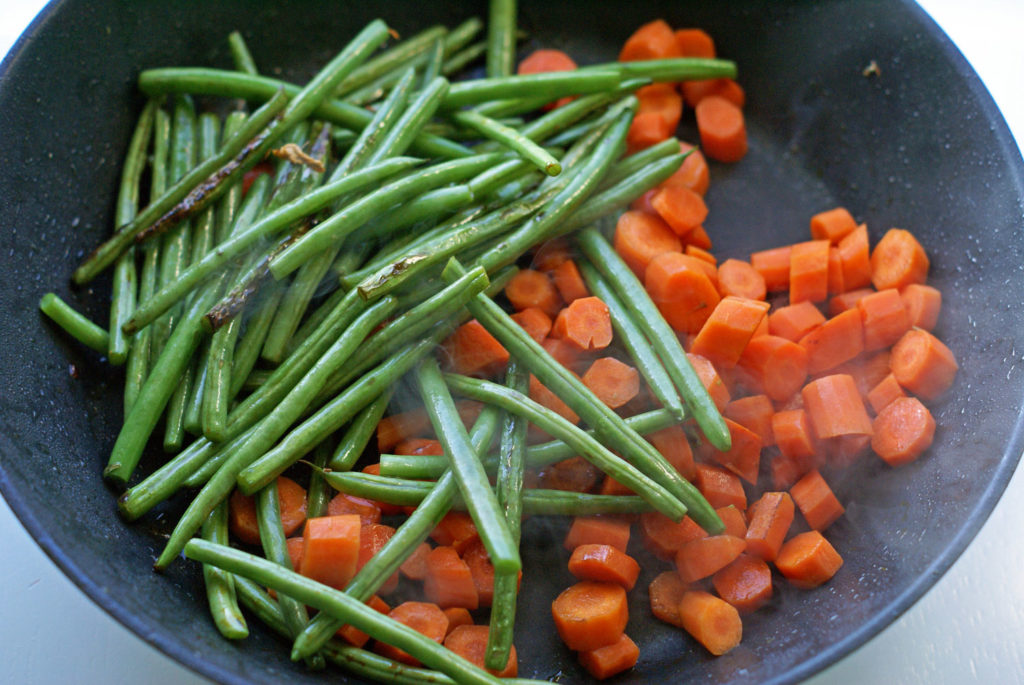 Then add the chicken back in, and stir things around to pick up the bits of browned chicken on the bottom of the pan. Finally, add the juice from the clementine, and stir, allowing the sauce to thicken slightly and warm through.
I like serving this as is; it's a great low-carb dish that's filling and easy to make. Add some crusty bread, brown rice or quinoa if you want an additional starch.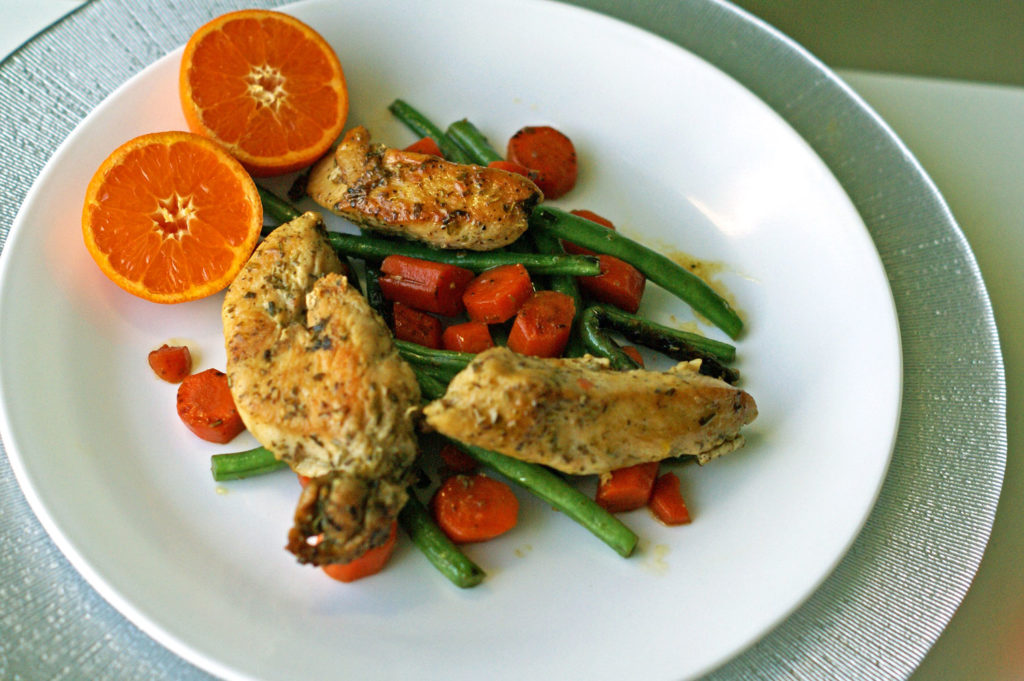 Tarragon Citrus Chicken
1 large chicken breast (or 2 halves since that's how they usually come)
1/2 lb fresh green beans
3 large carrots
1 clementine, juiced
3/4 tsp salt
1/2 tsp pepper
1 tsp dried tarragon
1/2 tsp dried rosemary
1 tbls canola oil
Mix salt, pepper, tarragon and rosemary, and crush in a mortar and pestle if you have one.
Slice chicken breast into strips about 1 to 1-1/2 inches wide.
Coat chicken with the herb mixture and allow to rest for about 10 to 15 minutes.
Prep the produce – wash and snip the ends from the green beans, peel and slice the carrots about 1/2 inch thick, juice the clementine.
Heat the oil in a large skillet over med-med-high heat. Add the herb-coated chicken and allow to cook for about four minutes per side. Do not turn too often to allow the chicken to brown. Once done, remove from the skillet and cover with foil.
Add the veggies to the skillet and cook until browned. Do not turn too often to allow the veggies to brown. For green beans and carrots this will take about four minutes per side. Reduce cooking times if using more delicate veggies.
Once veggies are browned and slightly softened, add chicken back into the pan. Stir to mix and scrape up any browned bits from the pan. Add the clementine juice, then allow to cook for an additional minute to warm through and thicken the sauce.
Serves 4