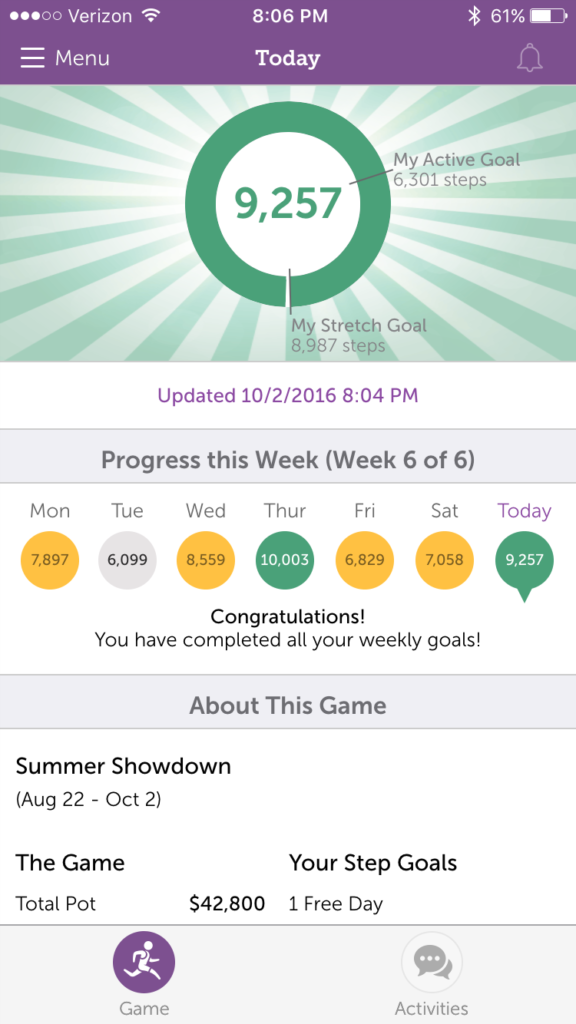 I successfully completed my first StepBet on Sunday. The initial bet was $40, and the payout was $49.47. That's more than 20% return! My total step count for the six weeks was 329,072 steps. This bet was about fitness, not weight loss, so no weigh-ins were required. It really did inspire me to make sure I was moving enough each day to make my goals. Yes, there were a few nights when I paced the kitchen and hallway to get my steps, but that's better than giving up and not making the goal.
I decided to roll my winnings over directly to a second StepBet. My goals for this one are slightly higher but still well within reach: four active days with 6,364 steps and two stretch days with 9,077. There are a lot fewer people in this StepBet, only 363. We will make a profit if 46 people drop out. I'm not actively hoping for anyone to fail, but making money is a great motivator. Worst case, less than 46 people drop out, and we get our initial $40 back with no additional winnings. The key there is that we won't lose any money.
Studies show that exercise can increase wellness, improve sleep, and add to one's longevity; it helps prevent chronic diseases such as diabetes and depression. For me, this bet was an excuse to take time for myself to get a little exercise. I would go for a walk most evenings after dinner. I didn't bring along the kids, and I didn't feel guilty about leaving them – or the dishes. I walked briskly and had a chance to think. Yes, I think family fitness is important, but having solitary time is important too. I returned after 30 minutes refreshed and ready to tackle the rest of the evening. And, it's funny how many steps you can take in a half an hour.
I encourage all of my patients to try to get at least 30 minutes of exercise daily. I know that's not easy. Hey, I have to sign up for a monetary bet to get it done, but at least it's getting done. Choose something you enjoy, or at least don't hate. You don't have to invest a lot of money, or even a lot of time. You've all heard this before. So … how are you doing? What is your exercise of choice? And, how do you stay motivated? Let me know in the comments.