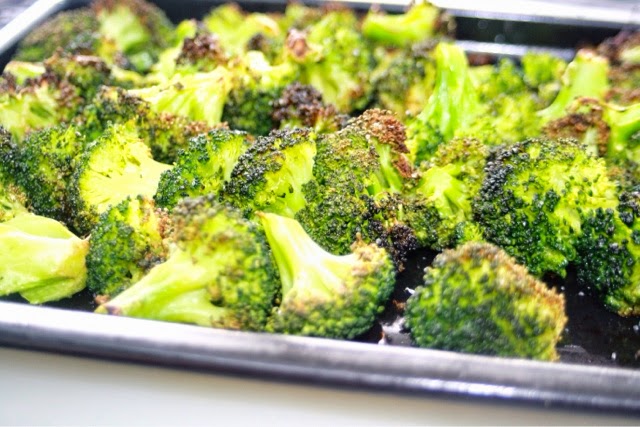 I spent most of May sick. Like three doctor's visits, two ER trips, and a hospital stay sick. To make a long story short, if your doctor says that you have pneumonia and need to stay in bed for the next few days, do not joke about it on Facebook. Anyway, I'm very lucky to have a husband and parents who took care of everything and basically let me check out of my life for several weeks. Even so, and despite the fact that my husband did more than his fair share of cooking, we have had a lot of takeout and fast food over the last month. And I am over it. Plus, while I've been trying to convince myself that my suddenly-too-tight pants have something to do with the steroid I've been on for a month, I think we all know I'm deluding myself.
So I was excited to finally get to the grocery store the other day and stock up on some real food, and especially some fresh veggies. I've mentioned before that
I'm not really a veggie lover by nature
, so that's probably a testament to just how much takeout I've eaten lately. Plus, I genuinely love this roasted broccoli.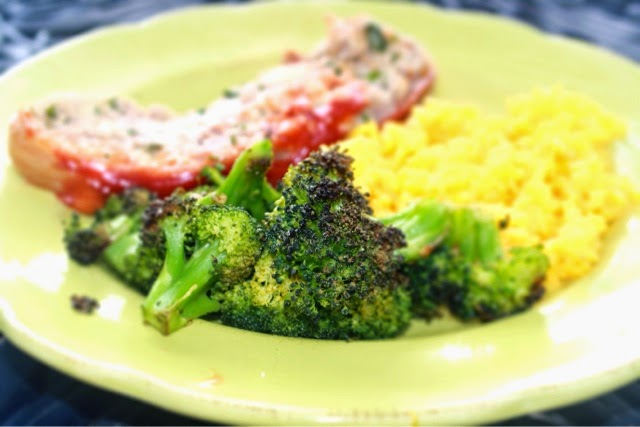 Corbie and I like to plan one meal together a week, usually for Sunday night. One of our first was a 'taco fiesta,' so we've taken to calling Sunday night dinner, 'whatever-dish-we're-having fiesta.' Anyway, this week was 'meatloaf fiesta,' because nothing says fiesta like meatloaf, right? I tried Pioneer Woman's meatloaf because she has never steered me wrong – plus, Corbie wants to live with her and will eat whatever she says, and I thought my favorite roasted broccoli would go well with it, and some yellow rice.
I've waxed poetic about roasted veggies before, so I'll try to restrain myself, but just know that when I say that I am as happy to see this roasted broccoli on my plate as some French fries or cake (and not just when I'm on fast food overload), I am not someone given to hyperbole. I almost hesitate to share it because it's hardly a recipe, but it is something we eat all the time. And, while I have to be honest that Corbie doesn't love it, Preston and Crispin both do, and I promise you've never heard anything cuter than a two-year-old saying, "mama, more broccoli please."
High temperature – like 475 or 500 degrees. This gets a nice crispy texture and has the added bonus of making cooking time faster.
Low moisture – get your veggies nice and dry after washing and use a small amount of oil. Too much moisture will steam rather than roast your veggies.
The right oil – see my note about oil here. I'm still using grapeseed oil for roasting, but you definitely want one with a high smoking point.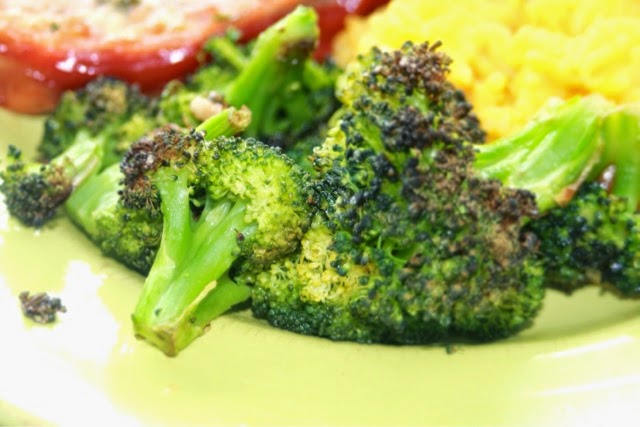 Simple Roasted Broccoli
1-2 heads fresh broccoli
1-2 teaspoons cooking oil
1-2 teaspoons coarse salt
Directions
1. Preheat oven to 500 degrees.
2. Chop broccoli into small florets; toss with oil and salt.
3. Roast in oven for 20-25 minutes, until browned and crisp.