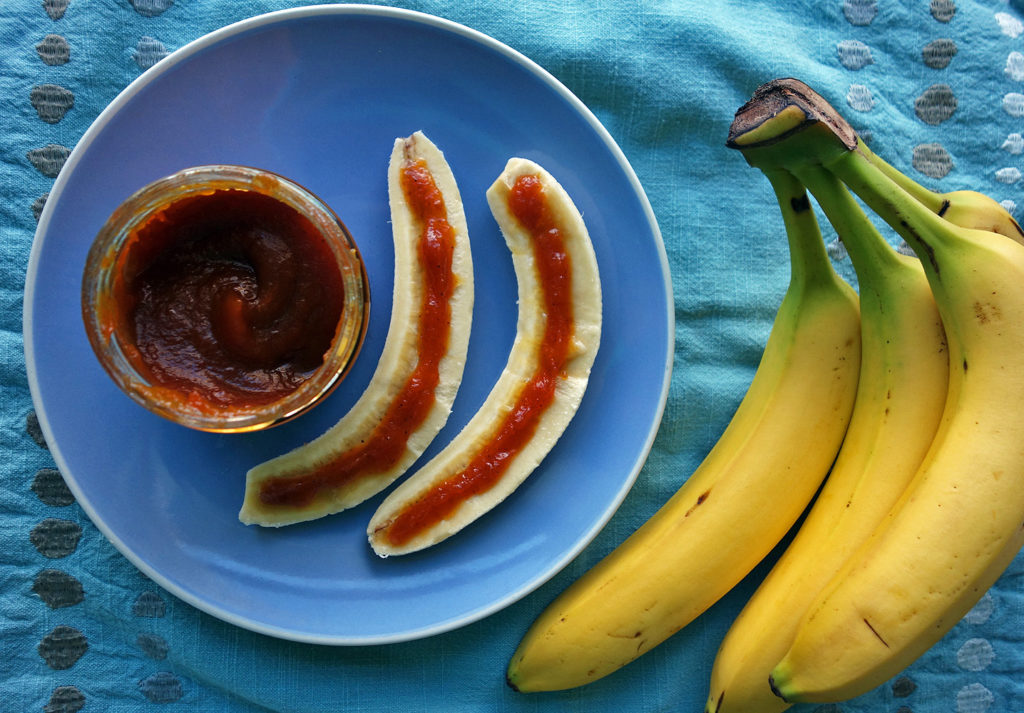 My friend and I took a trip to Trader Joe's yesterday. Overall I was pretty good. I didn't get any wine, or ice cream, or yummy frozen appetizers. I got apples, some fancy cheese, lentils, and nitrate-free lunch meat. I also got one tub of TJ's crispy chocolate chip cookies, but only a few of those are for me, I swear! They're for the boys (ahem). The one treat I did get myself was pumpkin butter.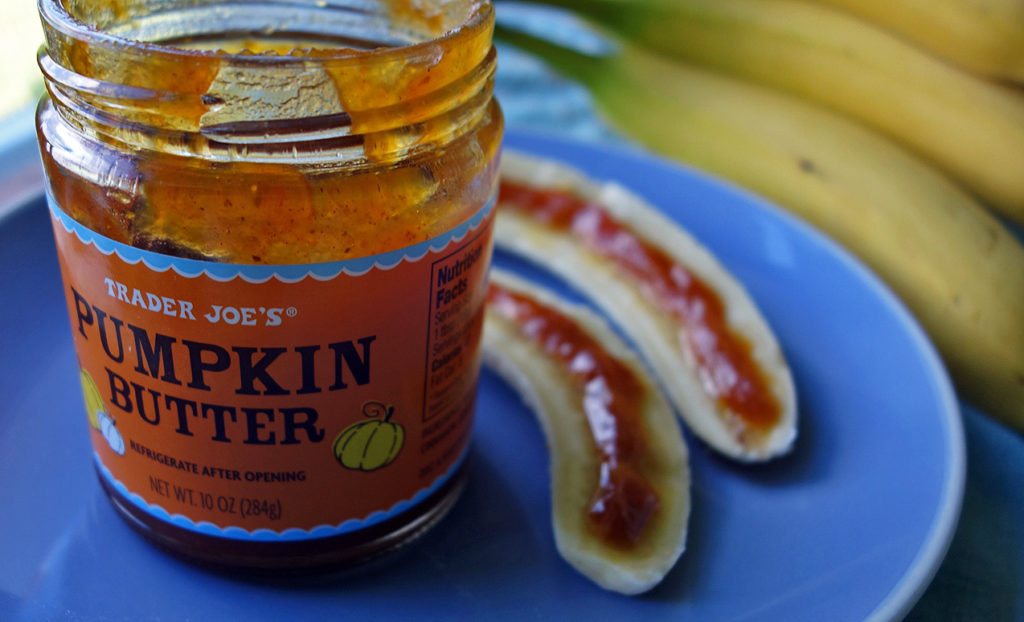 Hey, what's a trip to Trader Joe's without at least one treat? Right?
I was good, I avoided the pumpkin cookies, the apple pie cheddar cheese, the other pumpkin cookies, the butter cookies, the chocolates, the special breads; I avoided all of that stuff.
But, I couldn't resist the pumpkin butter. It's sweet and spicy and tastes just like Fall. If Fall is sweet and spicy and pumpkin-y, which I think it should be. Don't you?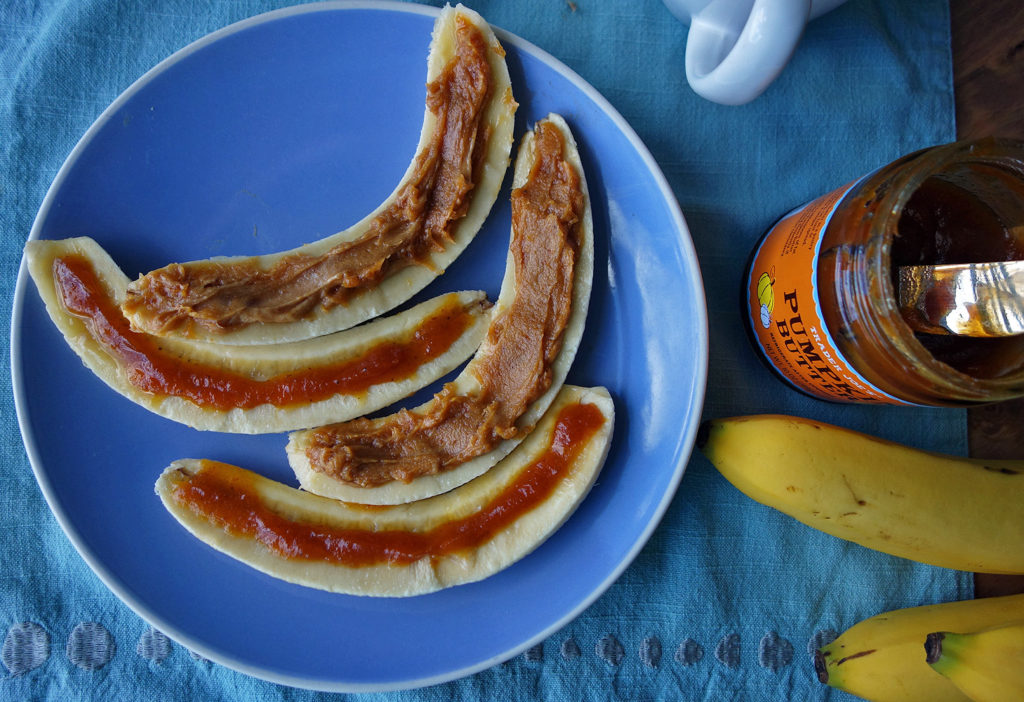 But, since I'm trying not to eat a lot of bread, and spooning it directly out of the jar seems a bit extreme, what should I put it on? A number of options came to mind – bagels with cream cheese (yummy, but no bread for me, remember?); plain doughnuts (yummy, but see previous comment); toasted sweet potato slices (eh, I'm not sure I'm ready for that yet); apples (hmm, could be … and I did buy a big bag of apples at TJ's too) but I wanted something smoother, not crunchy like apples. Then it came to me, bananas.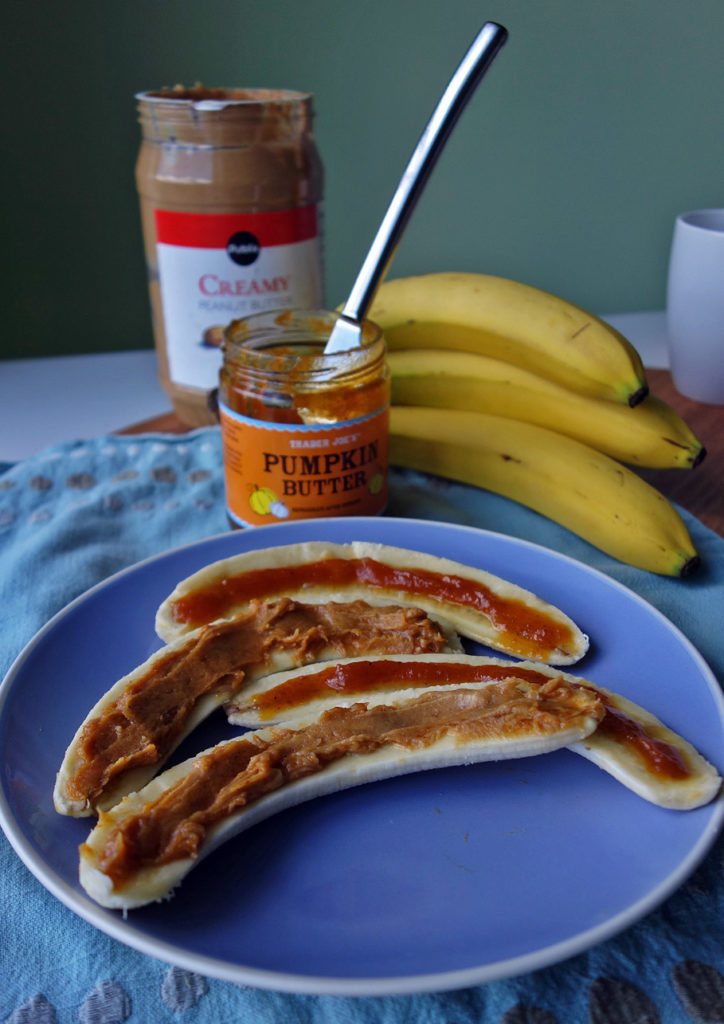 I wasn't sure it would work. Would the flavors go together? You don't see a lot of pumpkin-banana-cream pie recipes, you know? And, bananas have a lot of carbs, but at least they aren't processed carbs like you find in bread. They're pretty complex, natural carbs; and bananas are filling.
So, we tried it. Results = YUM! Yummy, yum, yum, yum. Seriously. Yum.
Oh, and want to know what makes it even better? Add a little peanut butter. That's right, pumpkin peanut butter bananas. Yummiest yum yum around. Perfect in the morning with coffee. Or for an afternoon snack. Maybe even dessert if you want to have something natural and sweet.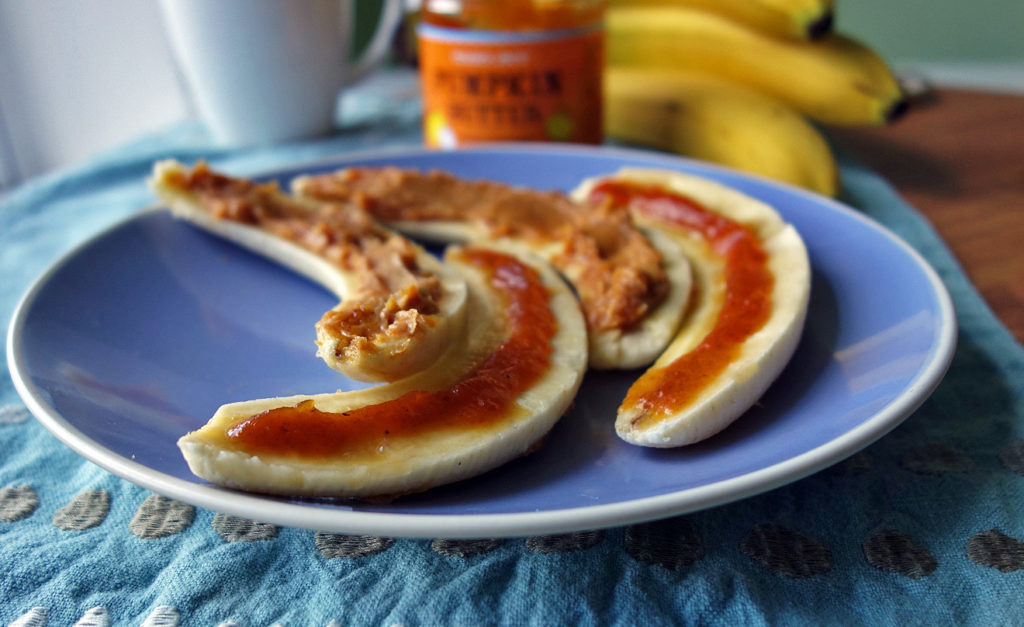 Also, I won't tell if you spoon some of the pumpkin butter straight out of the jar. Try a scoop of it alternating with a scoop of peanut butter. How's that for outrageous?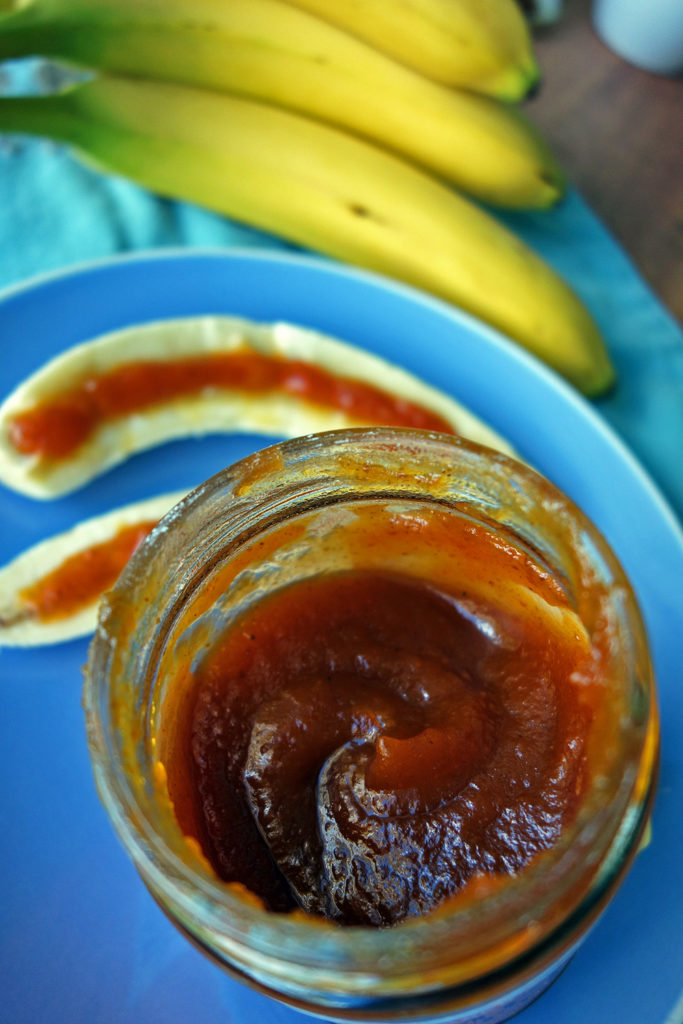 I'm already thinking of other things to use this on, ice cream, vanilla yogurt, maybe even as a glaze for pork. Hmmm. What do you put pumpkin butter on?
Pumpkin Butter Bananas
1 banana, sliced lengthwise
1 tsp pumpkin butter
1 tsp creamy peanut butter (optional)
Mix pumpkin butter and peanut butter (if using) with a butter knife. Spread on cut side of banana. Eat quickly before someone else does! Or, if you feel like being nice, serve.
Serves 1.