This shop has been compensated by Collective Bias, Inc. and its advertiser. All opinions are mine alone. #muBARista #CollectiveBias The following content is intended for readers who are 21 or older.
I love coffee. I love chocolate. And, I love dessert. I guess you could say I'm a very loving person.
Recently I figured out a way to put all of those loves into one decadent dessert.

I found a lovely new cocktail by mü at Publix – Creamy Coco Cappuccino. The company describes it as "Coffee break meets happy hour and they live creamily ever after." Sounds pretty intriguing, right? I thought so. There are four flavors of mü coffeehouse cocktails, and they're available at Publix and other retailers. And, right now there's a $2 off coupon on each bottle, which is one more great reason to try it!
I think this would make a great holiday hostess gift. Or teacher gift. I'm sure most of my teacher friends would love a delicious bottled cocktail after working with 150 kids for the last four months. I know I would.
Poured over ice, it's delicious. Like it said, creamy – with coffee and a hint of chocolate. I could definitely drink this. So I did.
But, I can't sit around drinking all night, can I? I should eat something too. I'd already had dinner, and the kids were in bed, so it was time for a grown-up dessert. This is definitely a perfect ingredient for a grown-up dessert.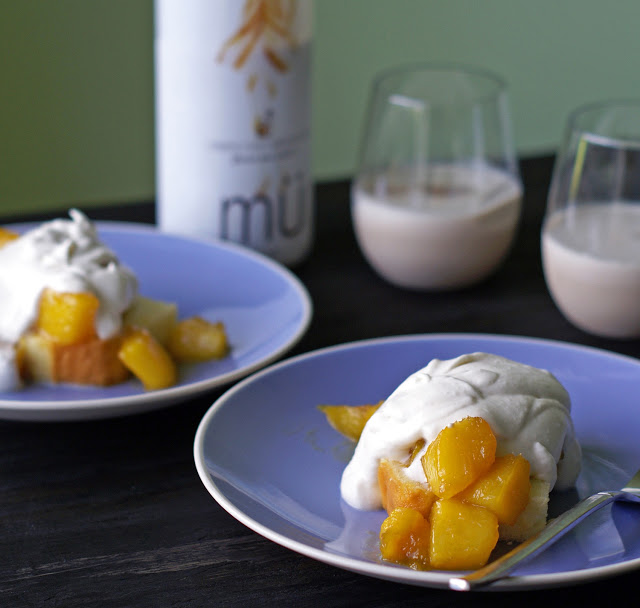 Speaking of dessert, you know what else I love? Whipped cream. It's a staple in our house, seriously. I've been experimenting with infused whipped creams, and this seemed like a perfect opportunity to expand on my repertoire. I'm happy to report that it's as delicious as it sounds. Honestly, it doesn't whip up as firm as regular whipped cream, but it's still delicious as a topping to this warm mango shortcake. Better, actually, because it highlights the creaminess of the topping and fills in the crevices of the pound cake.
The mü coffeehouse cocktail is delicious as is, but pairs really well with fruit too. Tonight I paired it with sauteed mangos over sour cream pound cake. Delicious. My husband claims to be not much of a dessert person, but he was practically licking his plate. And going back to lick the beaters. Yes, it was that good.
The mangoes are sauteed in butter and brown sugar for a few minutes. Just long enough to take off the "raw" taste of fresh mangoes and soften them in the sugar. Let them cool for a few minutes, (if you can stand to wait, that is) then spoon over a slice of pound cake and top with the infused whipped cream.
The infused whipped cream is very easy to make. I used a 4:1 ratio of whipping cream to mü Creamy Coco Cappuccino. So, 4 ounces of whipping cream to 1 ounce of mü. Beat the mixture on high speed with an electric mixer. Note, that it won't make really firm peaks with this ratio, but the flavor is delicious and the soft creamy topping works great.
This dessert is perfect for winter in Florida – warm mangoes over pound cake with a creamy infused whipped cream. Delicious, tropical and ready in about 10 minutes. What will you make with delicious mü coffehouse cocktails?
Warm Mango Shortcake with mü Infused Whipped Cream
1 ripe mango, cut into bite-sized chunks
1 Tablespoon butter
2 Tablespoons brown sugar
2 generous slices pound cake
4 ounces whipping cream
1 ounce mü Creamy Coco Cappuccino
Saute the mango, butter and brown sugar over medium heat for five minutes, until the mango is softened. Allow the fruit to cool slightly, then spoon over the pound cake.
In a chilled bowl, beat on high speed the whipped cream and mü Creamy Coco Cappuccino until soft peaks form – about five minutes. Spoon over the fruit and cake and serve.
Serves 2