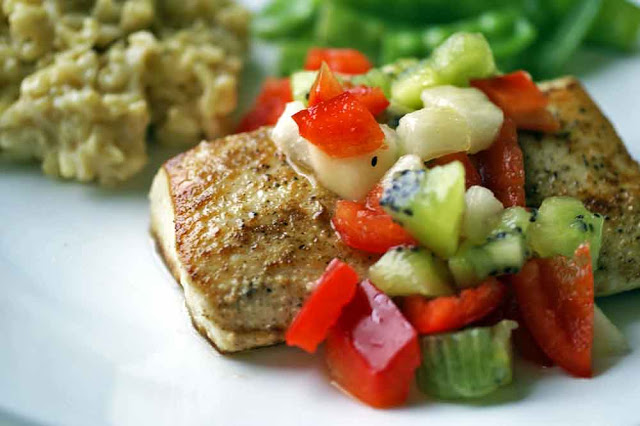 So, it's been more than a year since I promised my husband we would eat more fish. We now eat fish at least once every two weeks, more like once a week, but I'm trying to be realistic since some weeks we eat take out and macaroni and cheese a lot more than we should. But, it wasn't always an easy transition. Honestly, I was probably the most reluctant member of the family when it came to tackling a seafood menu.
I was raised on ground beef and canned vegetables. Seafood dinner meant a very occasional visit to the quasi-fast food fish-and-chips restaurant where I enjoyed the chips ever so much more than the battered, fried fish. I never really developed a taste for fish, and when faced with a wide array of choices, such as in a restaurant or at the seafood counter, I was, and still am, overwhelmed.

I mean, really, how do you pick? White flaky fish? That sounds good, right? I'm not sure – is flaky good? Not if you're describing a friend. How about a denser, meatier flavor? Does that mean it tastes like steak? Why not just get a steak then? Having someone else describe fish to you is not very helpful, at least not to me. I have to experiment with it myself – figure out what I like, what's easy to cook, what's too "fishy" tasting. But, it's scary to experiment – fish is expensive, sometimes smelly, and well, sometimes it comes with the head still attached.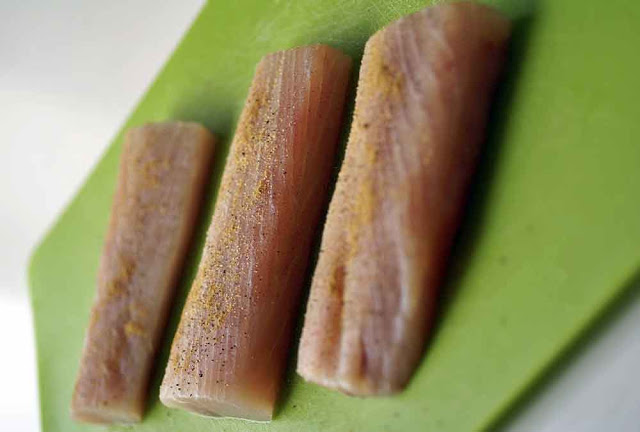 So, I took things slowly. I started with salmon, and, after numerous servings, both boys love it. They actually dance when I say we're having salmon for dinner. I've moved on to a few variations in the recipe, but the old standby is always a favorite. I've also cooked a fair amount of tilapia, (a white, somewhat flaky fish that doesn't taste at all fishy), and my new favorite, mahi mahi.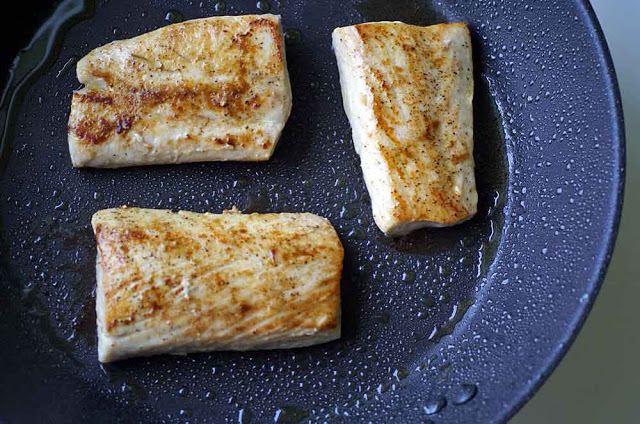 One of my favorite ways to serve mahi mahi is with a fruit salsa topping. I think it can really complement the fish without masking it. A healthy, more "sophisticated" version of tartar sauce. If you can call chopped up fruit sophisticated, that is. Whatever you call it, it tastes good. For this recipe I used kiwi, pears, and red bell pepper with a splash of lime juice. Originally I'd planned to use starfruit, but they were more than $2 each at the grocery store. Seriously?! So pears it is. Nearly any fruit will work, mangos and nectarines are also favorites for us.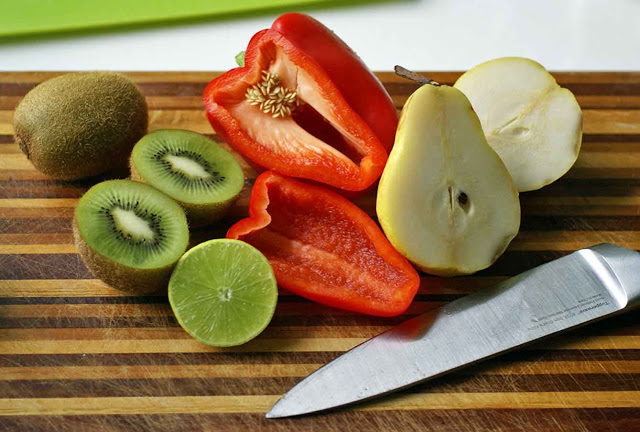 For seasoning, I keep it pretty simple – salt, pepper, garlic powder, cumin, and a dash of chili powder. This recipe isn't very spicy because my boys don't really like spicy foods that much, but I think it could stand up to some serious heat if you like it that way – more chili powder of even a little cayenne pepper. The fruit would off-set the heat and balance it nicely.
This meal takes about 15 minutes to make. I use frozen mahi from Costco. It comes in individually-vacuum sealed pieces, all of which are about the same size. A minor detail, but it makes cooking them simpler because they all take about the same time. So, if you have them defrosted already, it's a simple thing to throw on some spices, throw them in a pan and then cut up the fruit while they're cooking. More veggies and some rice or nice bread and your meal is complete. Or, you could serve it on a salad, which would be even more fancy, don't you think?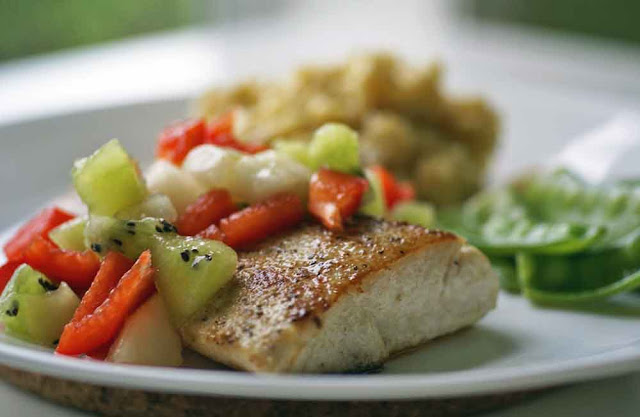 Mahi Mahi with Pears and Peppers
4 pieces Mahi Mahi, defrosted if frozen
1/2 teaspoon each salt and pepper, to taste
1/2 teaspoon cumin
1/2 teaspoon garlic powder
1 Tablespoon olive oil
Dash (or more) of chili powder, optional
2 pears, peeled and cubed
3 kiwi, peeled and cubed
1 red bell pepper, seeded and chopped
1 lime
Sprinkle the fish with salt, pepper, garlic powder, cumin, and chili powder if you're using it.
Heat the olive oil in a saute pan over medium-high heat. Add the fish and cook about 4 minutes on each side, until the fish is lightly browned and separates easily with a fork.
Meanwhile, mix the pears, kiwi and red bell pepper in a bowl. Squeeze the juice of one lime over the fruit and mix to coat.
Serve the fish with the fruit layered on top. Serve any remaining fruit on the side.
Serves 4 adults. Alternatively, two little ones could share one piece of fish.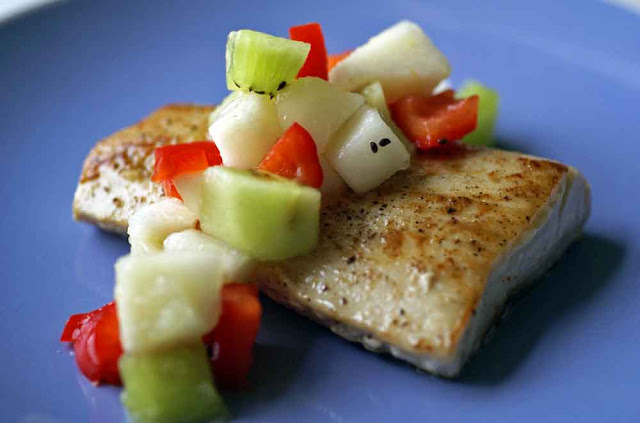 I shared this post at the Saturday Sparks Link Party and the Inspire Me Monday Link Party.
This post was featured at the Pieced Pastimes Saturday Links Party.