I often write on this blog about what great, adventurous eaters my boys are. They love veggies, fish, lamb chops – all sorts of things that most kids aren't willing to try. But, they're regular kids who also like regular kid food. In fact, Gabriel's favorite meal is macaroni and cheese with fruit. It's what he requested for his birthday dinner this year; he's 7. He'd eat it most days if offered.
I however, am not in love with boxed macaroni and cheese. It's OK, but I prefer it with extra butter, milk and melted cheese. That, however, is getting pretty close to something I should just make homemade, don't you think? Yeah, me too.
I usually make my mac and cheese with sharp cheddar. But at the store entrance this week there was a display featuring a new product, Roth Ultimate Mac and Cheese blend. It seemed like a sign – you should use this to make a grown-up version of macaroni and cheese. The mixture is really good – Grand Cru, havarti and sharp cheddar. It's creamy and flavorful with just a bite of sharpness.

Roth cheese is made in Wisconsin, which is where Grandma and Grandpa live. (Go Pack Go!) And Wisconsin cheese is fabulous. There are whole shops devoted just to cheese, and we usually fill a suitcase with local cheese when we visit. But, that's another issue. Anyway, Roth has two other cheese blends too: Ultimate Firehouse, which is Grand Cru, 3 chili pepper gouda, and smoked fontina; and Ultimate Flatbread, which is Grand Cru, mild provolone and fontiago. I bought the Ultimate Firehouse blend too, I'll let you know how that one is once I figure out exactly what I want to make with it.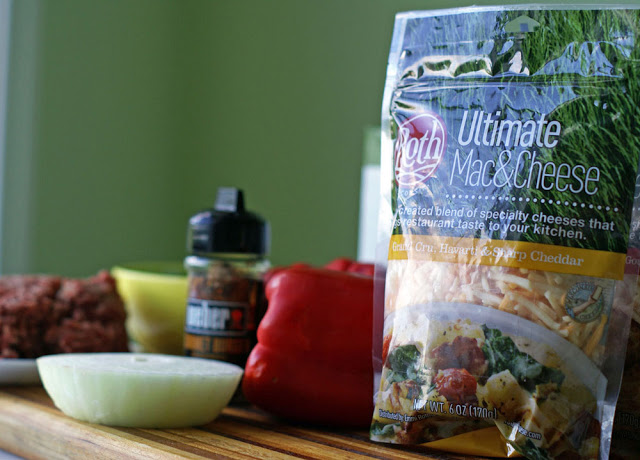 To make the mac and cheese more substantial, I decided to make a "cheeseburger mac" with ground beef, red bell pepper and onion. The sauce is based on a light cheddar cheese sauce from Cooking Light magazine. I make it so much I have it memorized. What's amazing is that it's super rich and creamy even though there's no butter. I also used Weber Gourmet Burger seasoning for a little extra zing.
This is an easy weeknight meal that feels fancier than mac and cheese out of a box. But, it's comforting and filling enough that kids and adults will both enjoy it. The flavors are complex enough to satisfy an adult palate while still being mild enough that kids won't be turned off.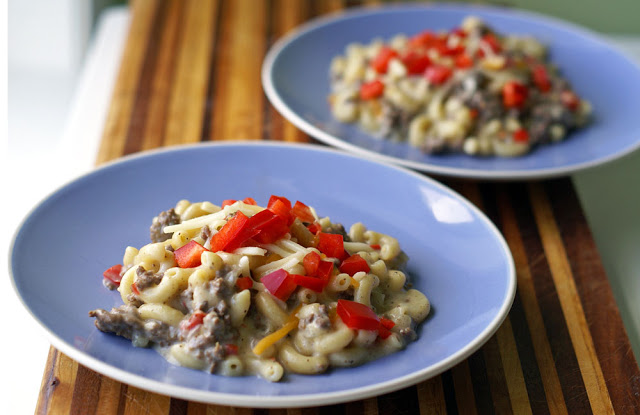 Brown the ground beef with the peppers and onions, drain the excess grease, then add the seasoning, pasta and water to the pot. Cover it and simmer until the pasta is soft. I cooked the elbow macaroni for 13 minutes, which is a bit longer than the package directions. That's because there's less liquid in the pan, so keep an eye on it. You may have to add extra water, especially if your pan lid doesn't fit tightly. If so, add in small increments so you don't put in too much.
While the pasta is cooking in the liquid with the meat, make the sauce in a separate pot. I know it's not really a one-pot dish, and everyone wants to make things all in the same pot, but it's still pretty easy to make and the creamy goodness makes it worth the extra clean up. I promise.
What I can't promise is that you'll have leftovers. It's that good.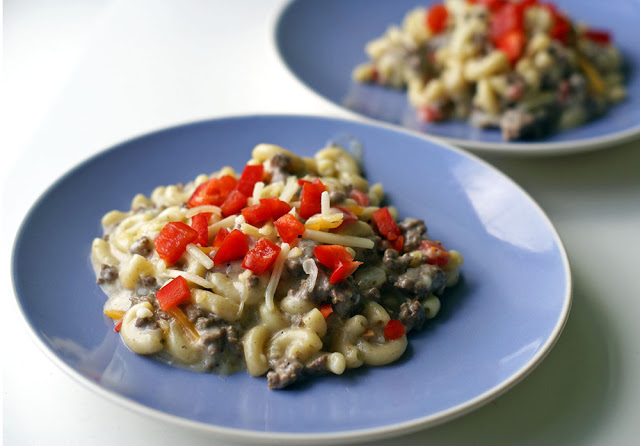 One last thing – check out my cool Nutrition Facts label! At first I was going to say this isn't a good meal to start using it with since there are 507 calories per serving. But, actually, that's not terrible for a filling meal. The saturated fat is high, which can really affect your cholesterol level, but for an occasional meal it's not terrible. If you're really worried about it, you could use half as much cheese and still have a delicious meal. Everything in moderation, right?
Grown-up Cheeseburger Mac
1 lb ground beef
1 red bell pepper, chopped
1/2 yellow onion, chopped
1 tbsp burger seasoning
8 oz dry pasta
2-1/2 cups water
2 cups low-fat milk
2 tbsp + 2 tsp flour
1/2 tsp salt
1/2 tsp pepper
6 oz shredded cheese
Brown ground beef, breaking up into small pieces, with red pepper and onion. Drain the excess grease, return to pot and mix in the burger seasoning.
Add the pasta and water, bring to a boil, then cover and reduce heat to simmer. Cook until the pasta is soft, about 13 min for elbow macaroni. Note, this is a little longer than the directions on the package, which is due to the fact that there's a limited amount of liquid in the pan. It's OK, it won't overcook, just keep an eye on in and stir occasionally to make sure the pasta stays in the liquid.

While the pasta is cooking, make the sauce in another pan.
Whisk the flour into 1/2 cup of milk in a medium saucepan, then add in the rest of the milk. Heat this mixture over medium heat, stirring often, until it starts to thicken. Then pull it off the heat and stir in the salt, pepper and cheese.
When the pasta is soft, stir the cheese sauce into the meat and pasta mixture, then serve.
Serves 6.