This shop has been compensated by Collective Bias, Inc. and its advertiser. All opinions are mine alone. #ChineseNYeats #CollectiveBias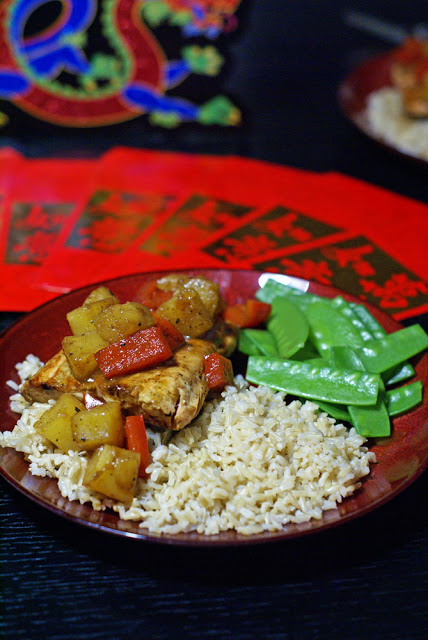 February is a busy month. My birthday, Mardi Gras, Valentine's Day and Chinese New Year are all in February this year. We have a LOT of celebrating to do.

My son Gabriel learned about Chinese New Year in school a few years ago, so now we celebrate every year. We clean the house really well, which is supposed to sweep away bad spirits and make room for good luck and good fortune. (Anything to get the kids to help clean!) We also put out fun red paper decorations for good luck and happiness. And the boys love getting a small money gift in the red and gold envelopes.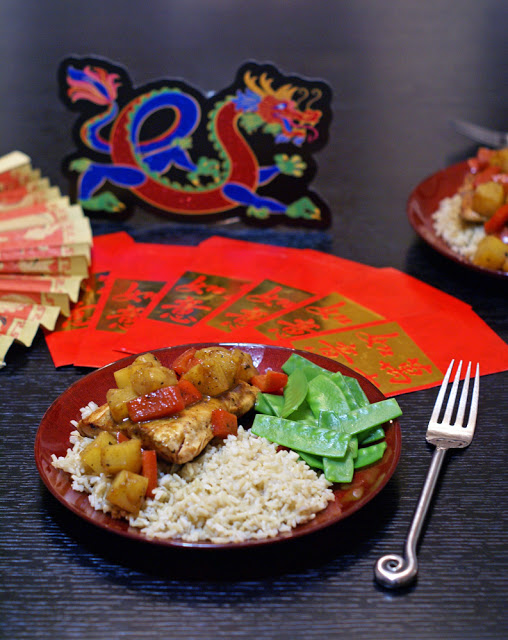 For dinner this year we're having one of our favorite recipes – Teriyaki Mustard Salmon. Chinese New Year is February 8, which is a Monday. This is an easy weeknight recipe that feels fancy but only takes 30 minutes. The sauce is made with soy sauce, brown mustard, brown sugar, oil and water. You marinate the salmon in the sauce for 10 minutes while you prep your veggies (I used red peppers and snow peas, but broccoli would make a good side too). Then, saute the fish over medium heat, about four minutes per side. Add the red peppers and pineapple in the last few minutes. Meanwhile, steam the snow peas or broccoli to serve on the side with brown rice.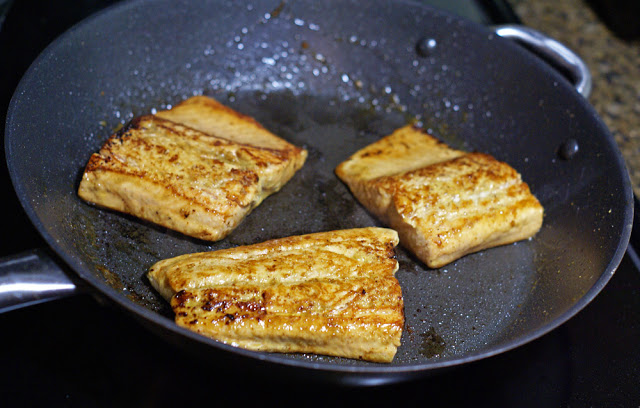 Wait a minute! I'm serving this with brown rice, which takes 40 minutes to cook, doesn't it? But, I promised the meal would be done in less than 30. That's because I'm using Minute Rice Brown Rice. It's pretty cool. It's actually pre-cooked a little bit, then dried, so it doesn't take as long to cook. In fact, it only takes 10 minutes! Five minutes boiling, then five minutes resting off the heat. That's great for me, because it guarantees I won't burn it by leaving it on the heat for too long. And, it has all of the same nutrition and fiber as traditional brown rice, so the only thing you're losing is time on the stove.
To keep things healthy, I'm using Kikkoman Less Sodium Soy Sauce. I like it because it has 37% less sodium than traditional soy sauce, but still has a great flavor and is a versatile base for sauces. The flavor blends well with the sweetness of the brown sugar and the tang of the brown mustard without being too overpowering.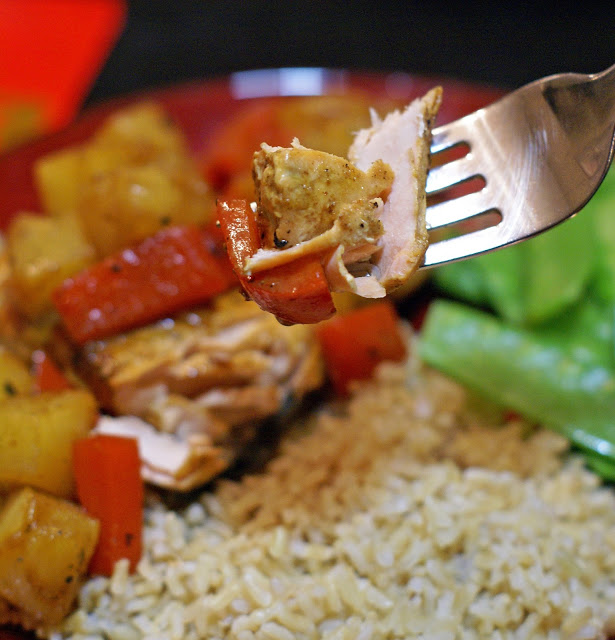 Since this is a weeknight recipe, I wanted to use delicious ingredients with minimal prep time. So, instead of hassling with peeling, coring and cutting a fresh pineapple (which can be hard to find in some areas in February), I used Dole Pineapple Chunks in 100% Pineapple Juice. They're firm and sweet and taste delicious in the recipe. Oh, and I checked, they're delicious straight out of the can too! Here's a hint – don't toss the juice when you drain the pineapple! I poured it into two cups and my boys got a fun pre-dinner pineapple treat.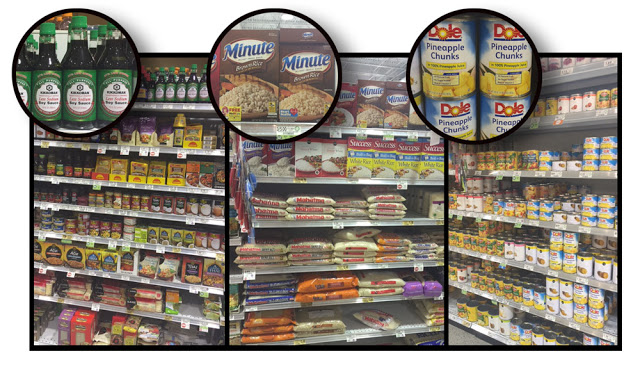 I found all three of these products at Publix, which is where I do most of my grocery shopping. To make it even better, I printed coupons to save $0.55 off the Kikkoman Sauce and $1.00 off the Dole Pineapple.
For more Asian-inspired recipe inspiration, visit the Chinese New Year Eats social hub. How are you celebrating the Year of the Monkey?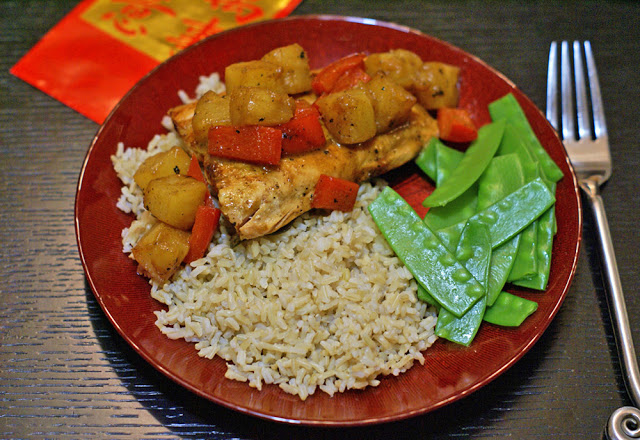 Teriyaki Mustard Salmon with Snow Peas and Brown Rice
1 lb salmon fillets
3 tablespoons low-sodium soy sauce
2 tablespoons brown sugar
2 tablespoons brown deli mustard
2 tablespoons extra virgin olive oil
2 tablespoons water
1/4 teaspoon garlic powder
1/4 teaspoon pepper
1 red bell pepper, chopped
1 20-ounce can pineapple chunks, drained
Sprinkle salmon fillets with garlic powder and pepper, place in a shallow bowl.
Whisk together the soy sauce, brown sugar, mustard, olive oil, and water, then pour over the salmon. Marinate for 10 minutes.
Heat a large skillet over medium heat. Saute the salmon about 4 minutes per side. Add the red peppers and pineapple to the pan for the last two minutes. If your brown sugar glaze starts to burn, lower the heat and add a few tablespoons of water. Then remove the salmon from the pan, pour in the remaining marinade and stir until heated through and thickened.
Serve the salmon on a bed of brown rice. Spoon the warm red pepper-pineapple mixture over the fish with a little of the extra sauce. Add the snow peas as a crunchy side.
Serves 3 adults or 2 adults and 2 littles.