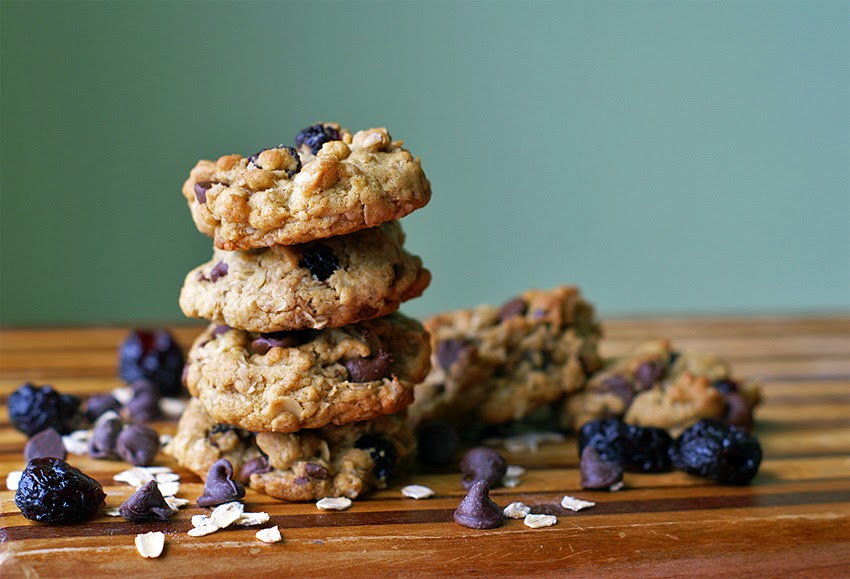 So, I'm officially in graduate school now, locked in a classroom for up to eight hours a day. Not only are we required to be there, we're required to pay attention and actually learn what they're telling us. Now, I don't know about you, but that means I need something really important … snacks. Sitting and listening, I could eat continually. I'm certain that helps with the learning process.
But, that could lead to some issues, right? I don't want to waste away in my chair, but I also don't want to outgrow my newly purchased Caribbean Blue scrubs; so I have to be careful with said snacks.
So, for now, I've made a few resolutions.

I'll take the stairs at least twice a day. Our classroom is on the third floor, so that's a minimum of 8 flights of stairs. If I'm feeling more energetic I could do a few more. More stairs = more snacks.
I will only snack during designated breaks, not while I'm actually sitting in the chair during lecture. This actually is a rule, since we've been told we're not allowed to have food in the classrooms, which are carpeted. We've "heard" that the rules aren't that strictly enforced, but for now there's no need to push it.
I've been working on some ideas for snacks and last night I made a cookie that was a great snack, and also could double as, ahem, breakfast. That's right, cookies for breakfast!

It's actually a riff on a traditional oatmeal raisin cookie. Except that I changed and tweaked so many ingredients it really isn't. Baking is tricky though, you need a starting point for the recipe, and oatmeal cookie was my starting point. Here are my changes, with the reasoning why:
Use coconut oil instead of butter – While they both contain saturated fasts, many people think coconut oil is healthier than butter. While I love butter, and baking with butter, I wanted something that felt a little different in this cookie. I can't describe it other than that. Lighter maybe is a good word. And, I think coconut oil makes the cookie a little bit crisper on the outside.
Use 2/3 soy flour in place of all-purpose flour – more protein and less carbs with same delicious results – need I say more?
Add nutritional yeast – great boost of a variety of B vitamins = healthy cookie! This also adds a savory note to the cookie, which makes it a bit more palatable for breakfast.
Add chocolate chips and cherries instead of raisins – really it's personal preference here. I'm not a big raisin fan. But, dark chocolate and cherries both have great antioxidants, cherries have vitamin C, and it tastes great.
This dough holds together pretty well, but the chocolate chips have a tendency to escape. I suggest you find a few on the bottom of the bowl and add them to each cookie as you spoon them onto the cookie sheets, otherwise you'll have lots left in the bowl that you'll have to eat while the cookies bake. DARN! Your choice on that one.
I shared these in class today, and someone said they were, "amazing." I'm not sure they're that good, but they disappeared pretty quickly. They're substantial, just sweet enough, with a touch of savory that makes you want another one. Tonight my husband and son dipped them in cold milk and also declared approval for the recipe. I take that as a success!
Oh, and for your nursing mamas out there, these could be considered basic lactation cookies. You could add a couple of tablespoons ground flax seed for some extra oomph, but I skipped that this time. And the nutritional yeast is healthy for the whole family, so you can share these, but only if you want to.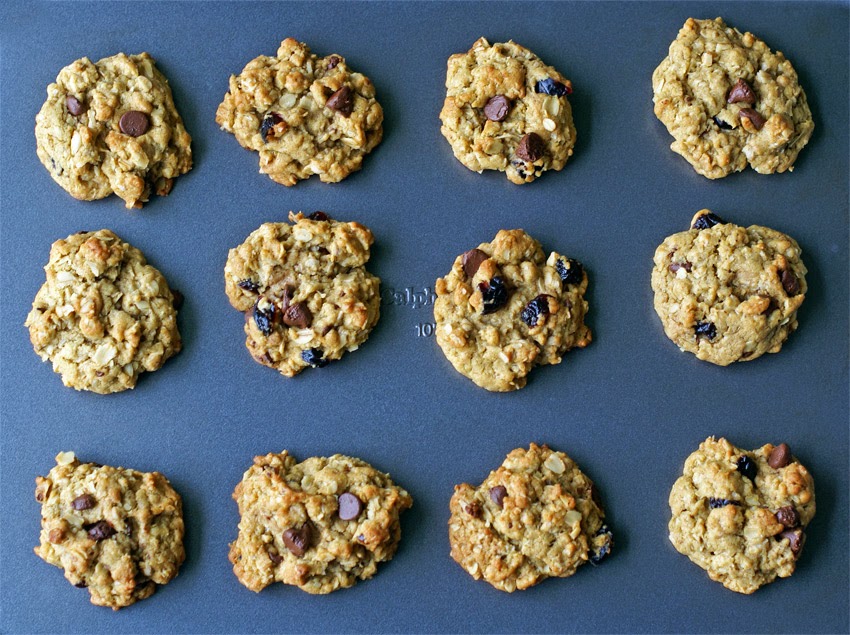 Cherry Chocolate Breakfast Cookies
3/4 cup + 2 Tbls coconut oil
3/4 cup firmly packed brown sugar
1/2 cup granulated sugar
2 eggs or vegan egg substitute
1 tsp vanilla extract
1 cup soy flour
1/2 cup all-purpose flour
2 Tbls nutritional yeast
1 tsp baking soda
1 tsp cinnamon
1/2 tsp salt
3 cups old fashioned oats
3/4 cup semi-sweet chocolate chips
3/4 cup dried cherries, chopped
Preheat oven to 350 degrees.
In a small bowl, combine the flours, nutritional yeast, baking soda, cinnamon and salt, stirring to mix.
In a large bowl, beat sugars and oil at medium speed until smooth and creamy; add eggs and vanilla and beat until thoroughly mixed. Add the flours and mix on medium-low speed until well combined. Add the oats, mixing on low, then add the chocolate chips and cherry pieces, mixing well.
Drop rounded teaspoonfuls on cookie sheets and bake for 9-11 minutes, until just lightly browned on top. Remove from oven and cool on the cookie sheet for a few minutes, then transfer to a rack and cool thoroughly.
Yield – about 4 dozen cookies