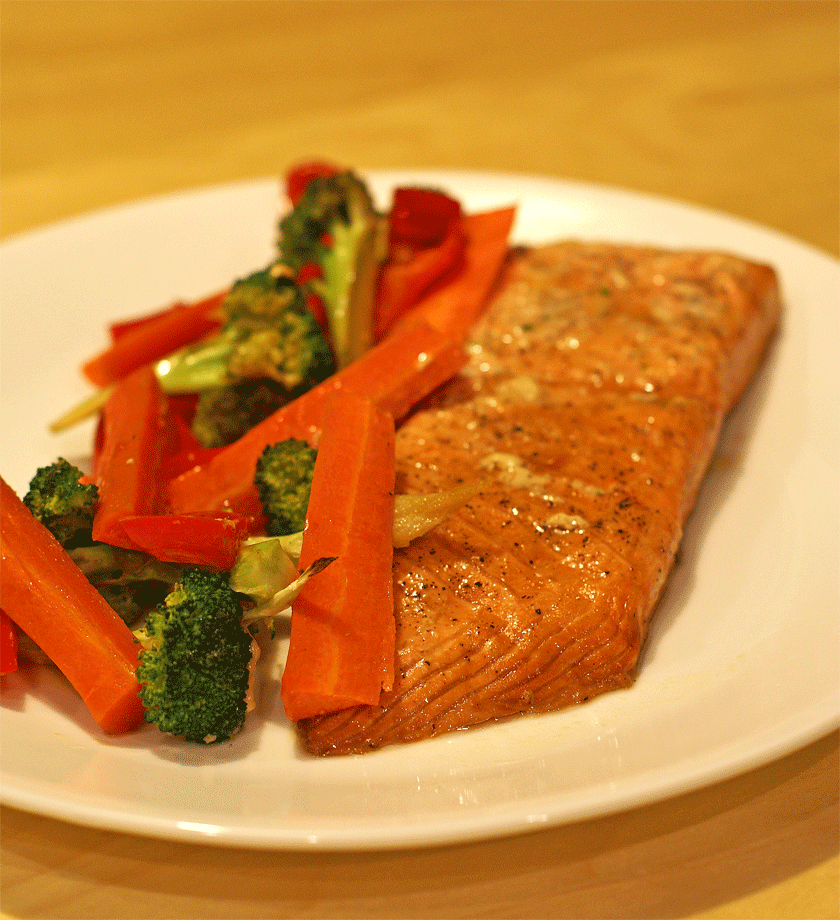 To be honest, I'm not much of a seafood lover. When I met my husband, he would eat fish at least a few nights a week, he often went fishing and even trapped his own lobsters. Wow, right? But me, I'm really more of a steak and potatoes, or pork chops and potatoes, or chicken and potatoes kind of girl. But, all of those health organizations aren't advocating we add more meat and potatoes to our diet, are they?
So, my husband is thrilled to announce that I've agreed we should include more seafood in our diets. I've started slowly, with a few new recipes a month, so as not to shock our systems. This salmon recipe has become a favorite dinner that even the boys love. The first time I served it, Grayson ate all of his before anyone else had really gotten started, then announced, "more meat!" because his plate was empty. Gabriel, on the other hand, was a bit slower to warm up to it. We had to convince him to try a bite, which he agreed tasted good. The next time we had it, I had to remind him he liked it and again convince him to try it. But, after steadfastly serving it several times, he now says he loves it and is happy whenever I say we're having salmon for dinner.
I like it because, being a poor planner, it's something I can put together quickly without having a lot of time to allow the fish to marinate or any special ingredients in the house. And, salmon is a great source of protein, low in saturated fat, and rich in omega-3 fatty acids, which is good for my high triglycerides and great for brain development in children.
I like to use individually packaged, frozen fish. The fish is frozen on the boat, and typically is good quality when thawed. Plus, having those prepackaged little blocks of fish in the freezer allows me to make a dish when I want without having to travel to the fish market for fresh fish.
With this recipe, you marinate the fish for about two hours. The nice thing is, you can actually place the frozen fish in the marinade and leave it covered on the counter. The fish will thaw while soaking up the delicious goodness of the marinade, thus saving that critical step of planning ahead and having the fish thaw before you start preparing it. You'll notice in the photo below that the fish is still frozen, just sprinkled with salt and pepper, and it's ready to go for a soy sauce swim.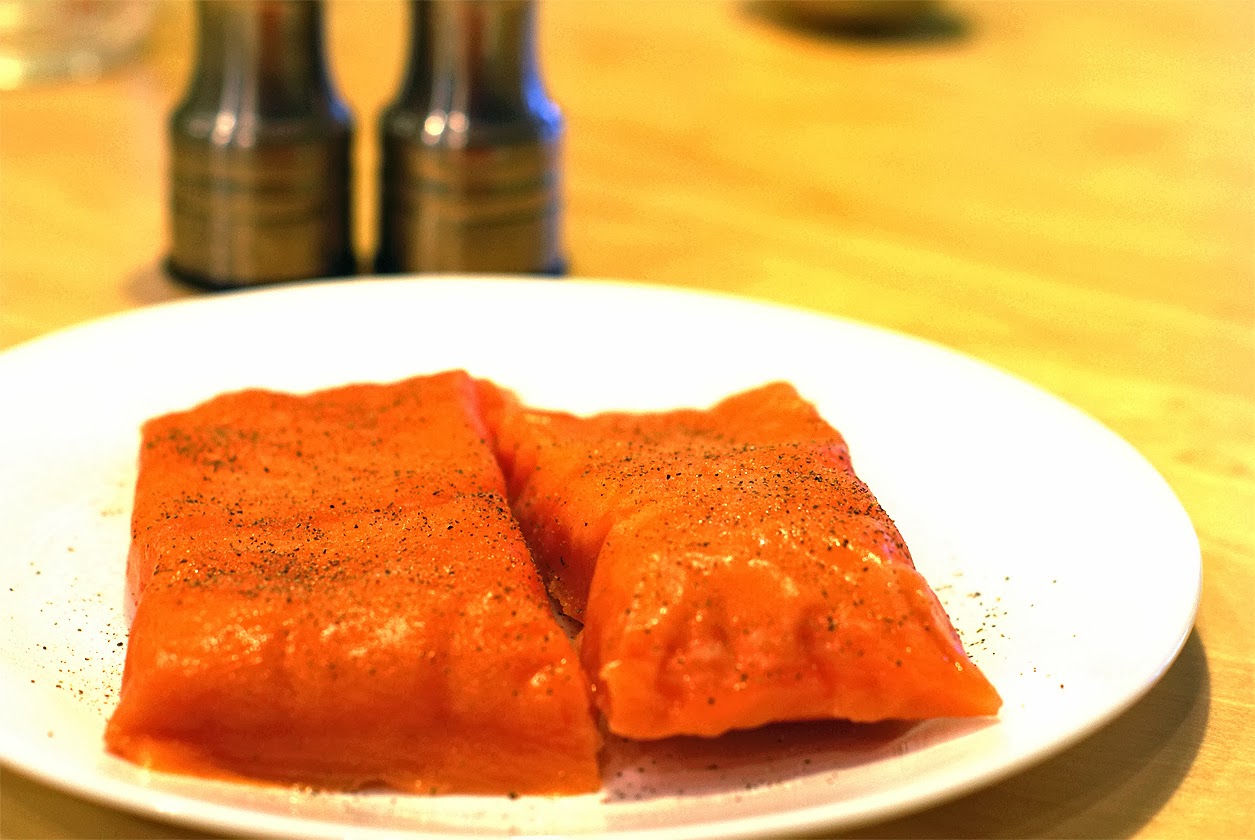 When you're ready to eat, turn the oven on and prep your vegetables. Some of our favorites for this recipe are broccoli and carrots, but green beans, red peppers and cauliflower all work well too. You want to cut the veggies into serving size pieces. The larger the pieces, the crunchier they will be when you serve them. So, if you like your veggies soft, cut them a bit smaller. They're going to cook in the packets with the fish.
To make the packet, put a piece of aluminum foil out, place one piece of fish in the middle, then pile on a portion of the veggies. I like to spoon some of the marinade on top of the veggies to moisten them and provide more liquid for the steam. To seal everything up, fold up the two long sides, gather the edges, then fold over. Then fold up the two shorter sides to make a "packet" of food. Place the packets on a jelly roll pan and stick the pan in the oven.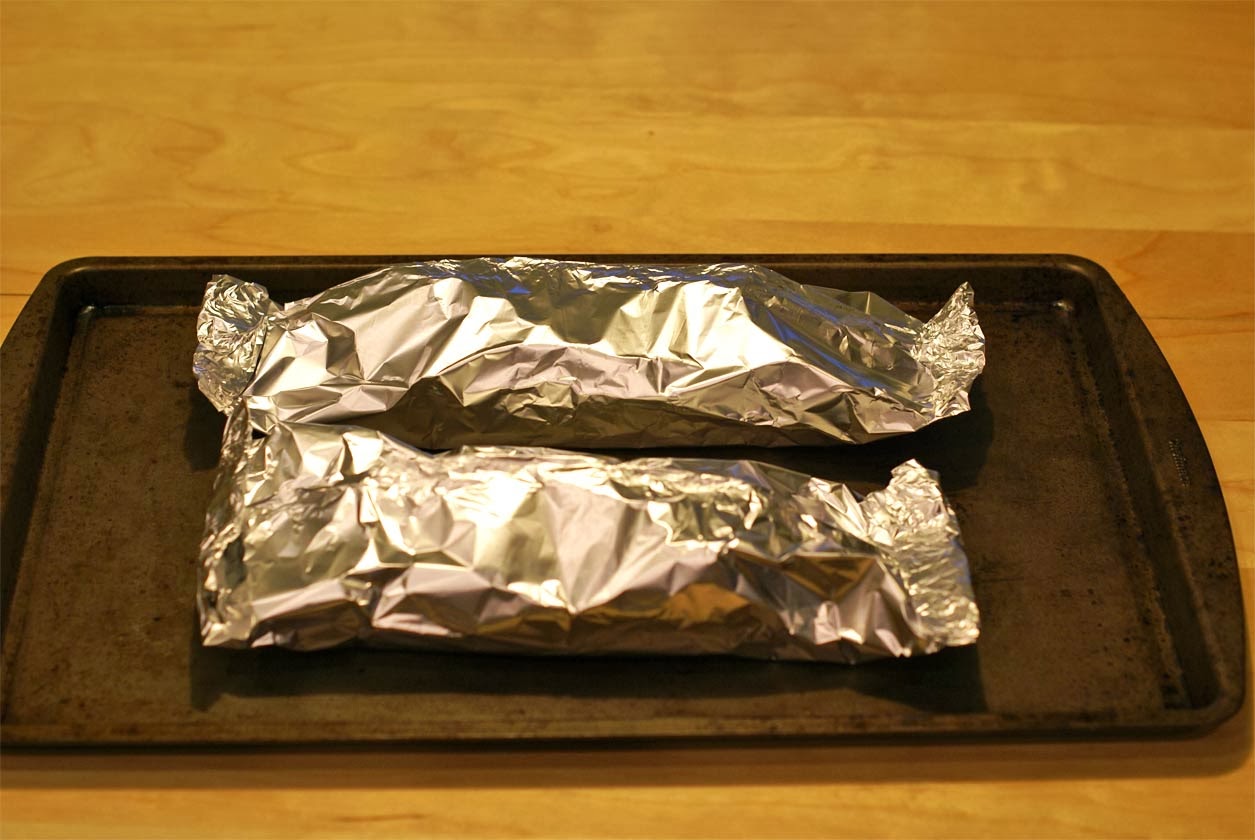 After baking for 15 minutes, carefully open the packets and scooch the veggies off of the top of the fish, then continue baking for another 5 min with the packets open. This allows the fish to dry out a little more, which is how I prefer it. Some people like their fish softer, in which case you could skip this step.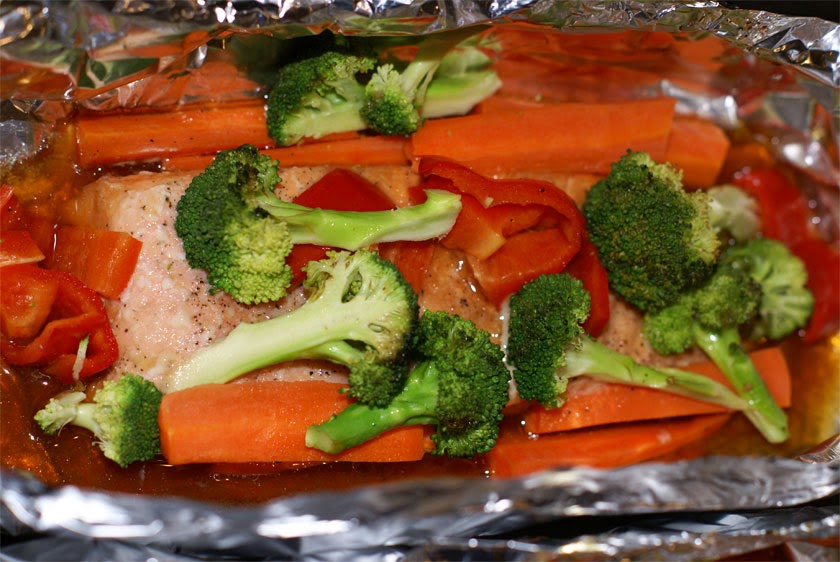 Serve the fish and veggies with rice or fresh biscuits. But, be careful, you might find someone wants to take the plate before you're ready to serve it!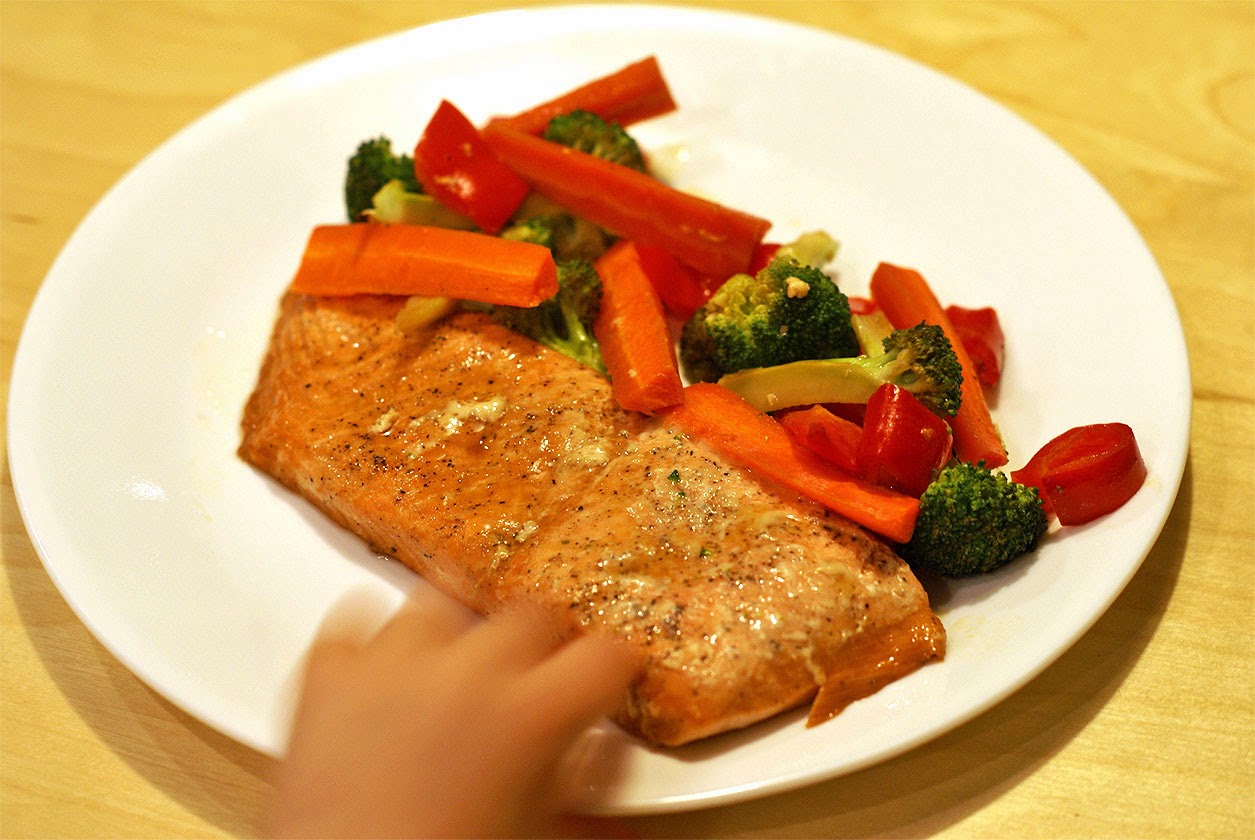 Brown Sugar Citrus Soy Salmon Packets
Two 6 oz salmon fillets
Salt, pepper and garlic powder to taste
3 Tbls low-sodium soy sauce
3 Tbls brown sugar
3 Tbls water
2 Tbls canola oil
3 Tbls fresh lemon juice
Fresh veggies of your choice – broccoli, carrots, green beans, cauliflower, red peppers
Combine the soy sauce, brown sugar, water, oil, and lemon juice in a small bowl, mixing until the brown sugar has dissolved. Sprinkle both sides of the salmon with the salt, pepper and garlic powder. Place the fish in the marinade and allow it to sit for two hours, turning occasionally if convenient. If the fish is frozen, let it sit at room temperature to thaw, if already thawed, marinate it in the refrigerator for safety.
When you're ready to eat, place the fish and veggies in foil, folding up the sides to create foil packets. Bake the packets on a cookie sheet in a preheated 425 oven for 15 min. Then, if desired, pull the sheet out, open the packets, move the veggies to the sides of the fish to expose the top of the fish, and bake for another 5 min.
This recipe serves two adults and two little ones. The portions are easily adjusted by increasing the amount of marinade to cover the desired number of salmon fillets you're preparing. You don't need a lot of marinade, just enough to cover the fish.
This recipe serves two adults and two little ones. The portions are easily adjusted by increasing the amount of marinade to cover the desired number of salmon fillets you're preparing. You don't need a lot of marinade, just enough to cover the fish.

Adapted from Grilled Salmon I.